As we continue to source, process and transform an expanding range of quality products in Argentina, our focus is firmly on sustainability
Sustainable Soy
In line with our Sustainable Soy Policy published in 2018, LDC Argentina has made an agreement with the non-governmental organization The Nature Conservancy (TNC). The objective is to generate an analysis tool and evaluate LDC soybean suppliers in the area of ​​the Argentinean Gran Chaco.
The ultimate goal is to replicate the pilot in other areas, such as the Paraguayan Chaco.
Work is currently being done on the second stage of this four-stage project, which will culminate with an analysis of socio-environmental risks of LDC suppliers.
Certified Biofuel
Since 2011, LDC has adopted the 2BSvs scheme for the origination of soybeans and the 2BSvs and ISCC-EU schemes to certify the sales of biodiesel, oil and glycerin. These schemes comply with the requirements of the European Renewable Energy Directive (RED), which establishes the criteria for land use and greenhouse gas emissions (GHG).
In 2019, we certified 240 Ktn of biodiesel, representing more than 1.200 Ktns of soybean certified under these schemes. The glycerin obtained in the biodiesel producing process is also included under the scheme, and so complies with EU regulations.
Greenhouse Gas (GHG) Savings
The European Directive, RED, requires a minimum value of GHG savings. In 2018, we increased this value from 35% to 50% in the production of soy.
In 2019, we certified a second-generation biodiesel from Free Fatty Acids, generating an increase in GHG savings for this product (89.5%). This improvement considerably increases the value of the biodiesel and opens greater opportunities in the market.
CARBIO-INTA Agreement
The project requires the development of a GHG emissions calculator, which would measure and evaluate the use of elements such as technology, phytosanitary products and fuel in the cultivation of Argentine soybeans. Current estimations are that GHG savings for standard biodiesel production can increase from 60% to 70%, if this project to develop such a calculating system is approved.
The work is currently in the evaluation stage of approval with the European Union.
Soybean Meal Program
Our sustainability team is also working on:
Certifying the Round Table Responsible Soy (RTRS) scheme with chain of custody certification in the plants and ports of Argentina and Paraguay
Development of a program for non-deforested soybean meal
Recycling and Community Initiatives
Separation and Recycling of Waste in General Lagos
LDC has introduced several recycling points throughout the plant, and carried out a communications campaign to foster recycling habits with our collaborators and business partners
Final Disposal of Silo-bags Waste
The company that collects our silo bags waste sells it, donating part of the money it makes to various institutions, schools and firefighters local to our warehouses. In 2019, some of this money was also used to plant 90 trees in the Argentine Patagonia, through the Friends of Patagonia Association.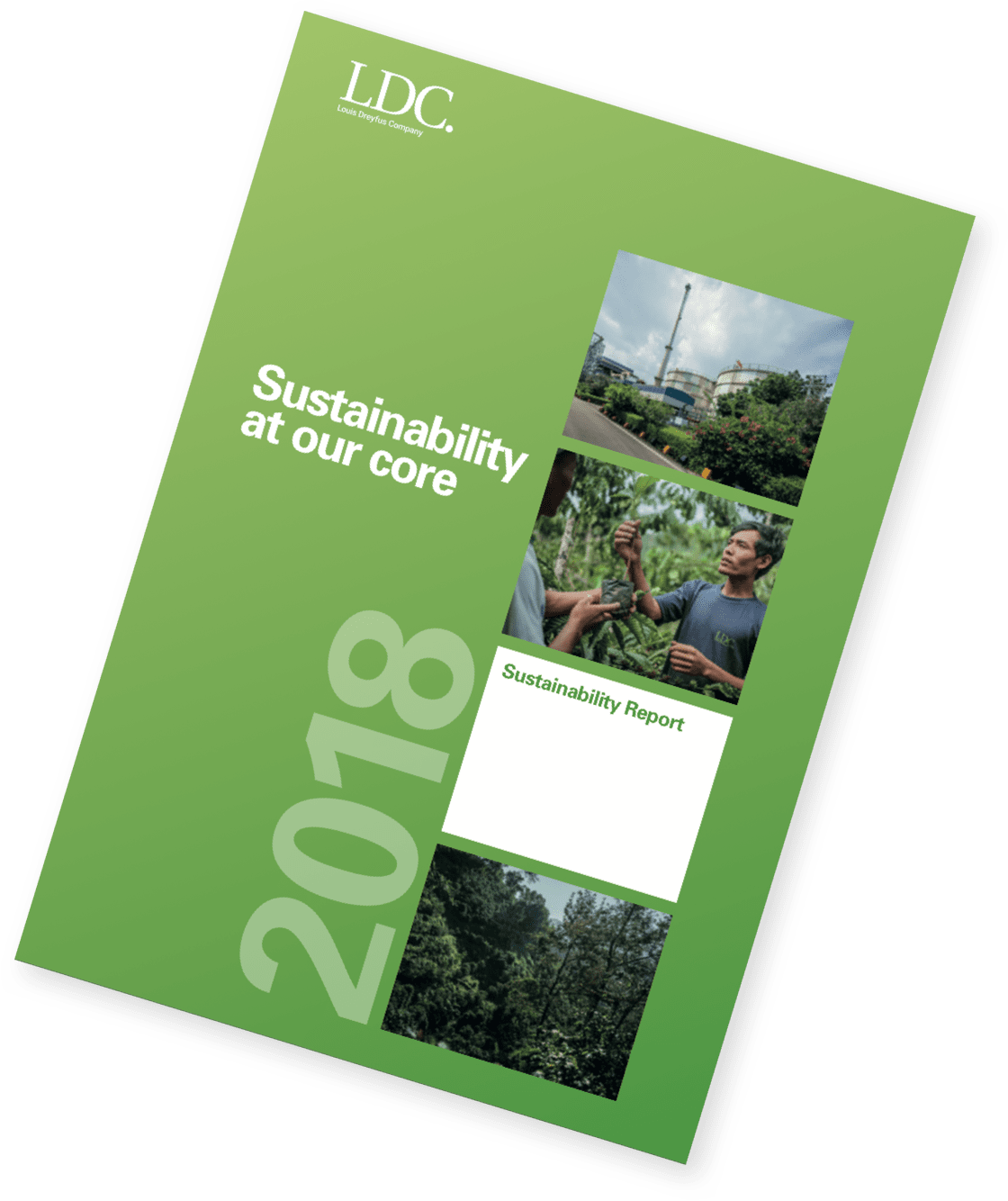 Sustainability Reporting
At LDC, we are committed to contributing to the global effort to provide sustenance for a growing global population, working with our partners to create fair and sustainable value across the food chain.
To ensure that we continue to improve, we set sustainability targets across our business and report on our progress regularly, through reports that detail how we have performed.
Our annual sustainability reports also highlight key successes and challenges, and set out LDC's forward-looking focus to deliver on our commitments to sustainability and transparency.
Download our latest sustainability report