Following the creation of a new Food & Feed Solutions Platform to develop and grow LDC's presence in the plant-based ingredients space, we spoke to Larissa Martins Jorge, Ingredients Commercial Manager, about her view of the future for this emergent business.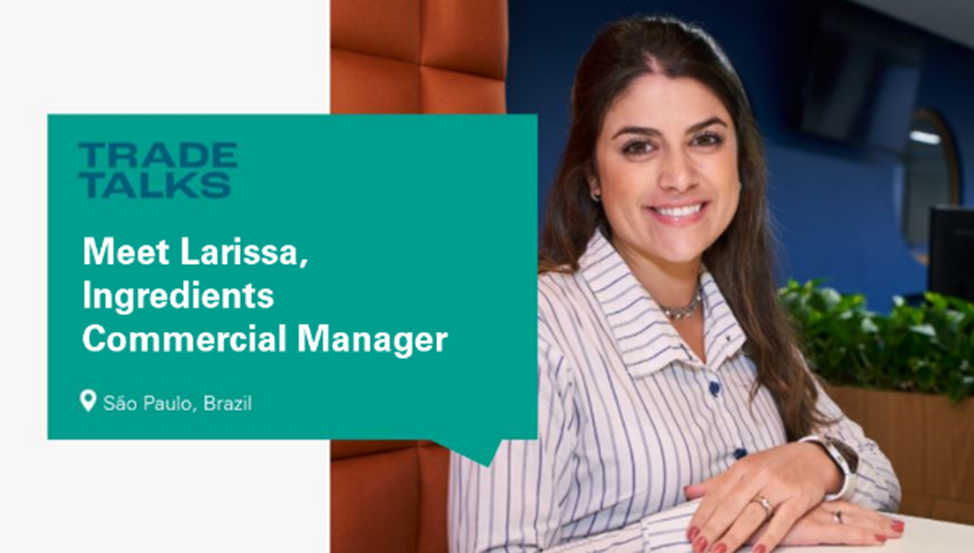 Hi, Larissa. Can you tell us about the products that our new Food & Feed Solutions Platform is developing and merchandizing?
Our Food & Feed Solutions team is developing a whole range of plant-based products and ingredients for different applications. While we expect our product portfolio to expand over time, we currently offer different types of lecithin, glycerin and tocopherol, all derived from our crushing and biodiesel production assets. The team is also working on creating our first specialty animal nutrition products in China.
That all sounds very elaborate and specialized. How did you learn about this field?
When I first started trading lecithin in Brazil, I was learning new things every day. As I grew our book of lecithin customers, I began to realize how big the market for it was. These days, every time I look at food product packaging for baked goods, chocolate, dairy products and others – even pet food, I see lecithin listed as an ingredient. It's very widely used!
You're saying that actually, most people are familiar with the end products of the goods you trade?
Definitely. You'll find our Food & Feed Solutions products among the ingredients of any number of plant-based foods, protein supplements, baked goods, face creams, soaps, toothpaste – even items such as pillows!
How does the Food & Feed Solutions team work alongside LDC's other business lines?
Many of our products are made from the core agri-commodities we merchandize. Our products are from different botanical sources – for example, glycerin is derived from soy and palm, and lecithin from soy and rapeseed. There's a huge crossover between the new Platform and our existing product lines. This said, our team is evolving from traditional commodities trading activities (such as buying and selling large quantities of wheat or corn) to supply not only big buyers but also more specialized industrial players looking to source ingredients in relatively smaller quantities. With that, comes a high aggregated value.
How are we innovating in this new area?
We're developing our portfolio to diversify LDC's current product offering, expand our market reach and provide clients with the ingredients they're looking for. We're also focused on Research & Development (R&D), working with specialists to understand more about emerging products, as we invest in new facilities with the capacity to produce novel ingredients. It's all about rethinking the classic idea of commodities to find new solutions based on the needs of this expanding market.
Why is it important for LDC to get involved in this space?
Consumer demand for plant-based ingredients is accelerating, fueled by increased knowledge and awareness among the general public of the health and environmental benefits of plant-based alternatives. And when it comes to sourcing the raw material for plant-based ingredients – such as soy, rapeseed, sunflower seeds or palm – LDC is in a prime position to leverage its already very strong origination and processing capabilities.
How will LDC scale up its participation in this market?
Our Food & Feed Solutions Platform was built around a strong team of specialists, which means a lot of knowledge and expertise is already in place. There's also a strong commitment from the company to invest in this space, supporting business growth over the coming years – and with a global asset network and market presence, LDC is well-placed to scale up its participation in the plant-based ingredients market through both organic growth of production capacity and targeted acquisitions and investments to diversify and expand our portfolio. And it's important to emphasize that we're not just looking to offer a strong product mix – a key focus is to ensure our products are high quality and come with great service.
Can you elaborate on what you mean by 'great service'?
LDC is fully invested in a customer-centric approach to business. We make decisions based on customer needs and have a sense of ownership about every trade we make. Personally, I focus a lot on lecithin and work with suppliers as if I were running my own business. The company encourages this entrepreneurial approach, which means you really own the relationship with a client, working to meet all their requirements. It's about responsiveness and availability, especially if the need is urgent, and about taking responsibility to sort out issues, whether it's related to logistics, quality or anything else.
Does this customer focus explain the 'solutions' part of the Food & Feed Solutions Platform's name?
Exactly. Our goal is to identify, develop and supply solutions that meet the needs of our existing and prospective clients. By going beyond bulk, we can put through relatively small orders to ensure that our customers get the product they need in the amount they need, which opens new areas for us to grow in. So while we keep running our factories and putting through the big tickets, we're also building an agile structure that can meet smaller orders and customization needs – for example, for customers needing a special type of lecithin with low color.
Can you give us some insight into your day to day, as an Ingredients Commercial Manager?
Well, the first thing I'd say is that every day is different! My job really starts with the sale, after which I need to do all I can to guarantee that the different supply chain elements work together for the same purpose: to deliver the product on time and to the requisite quality. That means liaising with many different stakeholders. As soon as I make a sale, I log it into our system and talk with our execution team to schedule the shipment. I speak with our industry team to check the lecithin flow is sufficient for the size and timing of the sale, and align with our quality team to ensure we meet the client's exact requirements. I'm also in close contact with the client to update them and provide any additional information they need along the way.
To what extent does sustainability play a role in decision-making?
We act across our supply chain to meet sustainability requirements, for example, to ensure we don't buy from deforested areas. Our clients require increasingly higher standards in terms of sustainability, including certification. Importantly, sustainability doesn't just sit with traders – it's embedded across the whole company, in line with LDC's commitment to sustainable practices in everything we do, from responsible sourcing policies that define who we can sell to or buy from, to safe, fair and environmentally responsible operations. I'm proud to be a part of that, and to work in an area that has huge potential to drive positive change for food and agricultural production.
Can you elaborate on how the Food & Feed Solutions Platform is helping to drive this positive change?
For a start, we are responding to growing consumer demand for healthy, plant-based products, actively harnessing innovation to maximize added value from raw materials, while minimizing waste. We do this by building on LDC's existing capabilities in the processing of oilseeds, oils and lipids, and other derivatives from LDC's product portfolio. And by transforming existing agri-commodity raw materials and their derivatives into value-added products – including more sustainable products – we contribute to the overall sustainability of LDC's business activities.
Is it fair to say that sustainability is a central goal for the new Platform?
Of course – and not just for Food & Feed Solutions. My team and I are all part of LDC, a global company with strong sustainability commitments and goals – such as our commitment to eliminate deforestation and conversion of native vegetation for agricultural purposes from our supply chains by the end of 2025. We work hand in hand with many departments to pursue these – our Sustainability, Carbon Solutions and Safety, Health & Environment teams, for example. Each time we receive a requirement from a client, we work together to ensure their needs are met. And it's also not just about client requests – rather, it's about embedding sustainability in everything we do, because we feel it's our responsibility to do the right thing – for the present and future. The environment belongs to and sustains all of us, so we need to take care of it. I believe LDC can play an important role in encouraging others to act responsibly as well, by upholding our commitments to our clients, partners and stakeholders – as well as our planet!