When our Madrid office opened in 1922, it was largely dedicated to grains marketing throughout Spain and Portugal. Over the last century, it has evolved into an important hub for the Group's trading, execution and distribution activities, with strong links to all our business lines across the world.
Employing 28 people today, our Madrid office celebrates 100 years in Spain, as a pivot point for our global business in 2022 – and as we celebrate that legacy, we wanted to speak to two "pillars" of our local team who, between them, have spent a century with LDC!
In the fall of 1972, 50 years ago, Felipe Medina and Juan Antonio Iñigo began working together as office assistants for LDC in Madrid. And while their careers took them down different paths – Felipe is now an accountant, Juan Antonio an execution officer – they have remained fast friends over the decades.
In September 2022, we caught up with them to hear their story as part of #TeamLDC.
To say that 2022 is a milestone for both of you is an understatement – 50 years with LDC! How does it feel?
"I'm very proud of my career at LDC and I've always been happy here," said Felipe. "And today, the office is full of young people of different nationalities, which adds a fascinating dimension to the work."
"Well," adds Juan Antonio, "over 50 years there clearly been good and worse times – but the point is that the good always prevailed, thanks to the team and family spirit! Many of my colleagues have become close friends, and one went even further and became my wife – and mother to my children!"
Do you remember your first day of work?
"I remember it very well – I was young and nervous – and a little scared, in fact!", remembers Felipe, smiling. "I started out as an office assistant, like Juan Antonio. He had started a few weeks before me, and really helped me settle into the job."
"Yes, my first day was October 5, 1972," continues Juan Antonio. "I was just as nervous as Felipe, trying to remember all the instructions and working as quickly as possible. At that time, everything was done manually and on paper, so we were supporting everyone in the office. I remember how well they always treated us, from day one."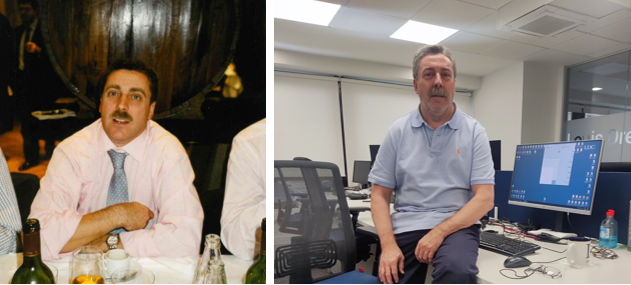 What makes LDC special to you?
"I see LDC as 'my' company," says Felipe. "In the sense that it's where I've 'grown up'. And through LDC, I met friends and travelled to many places I might never have seen otherwise."
"Quite simply, it's the only company I've ever worked for – and that's special to me," adds Juan Antonio.
What motivates you to continue with LDC? What do you like most about your jobs?
"The truth is, I like what I do and the people I work with. For most of my time at LDC, I worked in the analytical control of commercial operations, and yet the complexity of our company means that every day brings unique problems to solve," says Felipe.
"The Covid-19 lockdown really brought some truths home for me – literally! I realized that I need to be active – to get out of the house and interact with people. And LDC is the perfect setting for someone who likes action and interaction – these days, we can work from home some days a week, but I still choose to work from the office every day, for the conversations I have with so many people – port agents, ship captains, brokers – it's these interactions that I enjoy and that motivate me," says Juan Antonio.
What's the biggest challenge you faced during your half-century at LDC?
"DEFINITELY adapting to changes in technology – new systems and applications. That has always been a challenge," laughs Felipe. "Then again, my bosses trusted my ability to adjust, I do my best to learn, and my colleagues help me out when necessary!"
"When one of my managers retired in the mid-90s, the Group challenged me to become responsible for chartering – something I didn't like very much at the time and wasn't confident about," remembers Juan Antonio. "Still, I decided to rise to the challenge and after a few months I was amazed that I could do it – and do it well!"
How do people react when you tell them how long you've worked at LDC?
"Generally, their eyes open wide in surprise! Some of them think it's strange to work in the same company for so many years," says Felipe. "But I think that if you're lucky enough to find a fulfilling job with interesting people, then why not continue?"
"Exactly right – most people don't believe it can be true!" agrees Juan Antonio. "But as Felipe says, if you find a job you enjoy, with supportive co-workers, good conditions and a healthy work environment, where your work is recognized – then I see no reason not to stay – for life, in our case!"

Anything that you're particularly proud of, that you'd like to share?
"50 years at LDC," say Felipe and Juan Antonio, almost in sync, laughing!
"As I said, I'm delighted to celebrate 50 years working in 'my' company! 50 years of giving and receiving – including the professional and economic stability that has, in turn, helped me give my two children the opportunity to attend university and build their careers, which also makes me very proud," adds Felipe.
"I couldn't agree more. I'm proud to have worked all this time in a company that felt like home – where I met my wife, who by the way, has worked at LDC for 35 years!" continues Juan Antonio. "And like Felipe, I'm proud to have raised a family and given them opportunities they may not have had otherwise – and to see them happy today!"
How about a few words of advice for young people just starting out in their careers?
"Look for a job you love, because you'll spend a good deal of your life at work," says Felipe. "And if you are happy at work, don't rush to change for the sake of it – because loyalty and the chance to build something over the long-term also feels great!"
"Absolutely," says Juan Antonio. "I think it's also important to have humility, be willing to learn and respect the work of your colleagues. Also, don't try to reach the end of the road too fast – walking slowly gets you a long way!"
Thank you, Felipe, Juan Antonio – for sharing your wisdom and memories, for your commitment and contributions to our journey, and for having been such an important part of what makes LDC a place that our people – like you – feel proud of, as 'their' company.