Blessed with blue skies, fertile basalt-rich earth, lush mountains, rolling green hills and a climate in which coffee plants thrive, Vietnam's Central Highlands are often referred to as the "Kingdom of Coffee". Approximately 95 percent of the country's coffee is produced here. The Central Highlands, almost alone, have made Vietnam the world's second largest coffee exporter.
And the coffee itself? Characterized by a distinct flavor unlike any other, with hints of caramel and chocolate, the dark roast tastes smooth, robust but somehow elegant too. It's this perfect mix which attracts so many international companies, including Louis Dreyfus Company (LDC), to source their coffee here.
Home to 596,000 coffee farmers, Vietnam exports some 1.4 million tons of coffee a year. Yet trouble, as well as coffee, is brewing there.
Climate change is already affecting production, with frequent droughts hitting coffee yields and quality. Agrochemicals are damaging both soils and human health. High levels of biocide residues are also a concern.
Keen to protect its coffee supply and suppliers from Vietnam, LDC, JDE and Syngenta have teamed up to launch a new sustainability project. Putting farmers at the center of this initiative, they're working in partnership to boost resilience to climate change and to improve the management of agrichemicals in Dak Lak, Dak Nong, and Gia Lai provinces.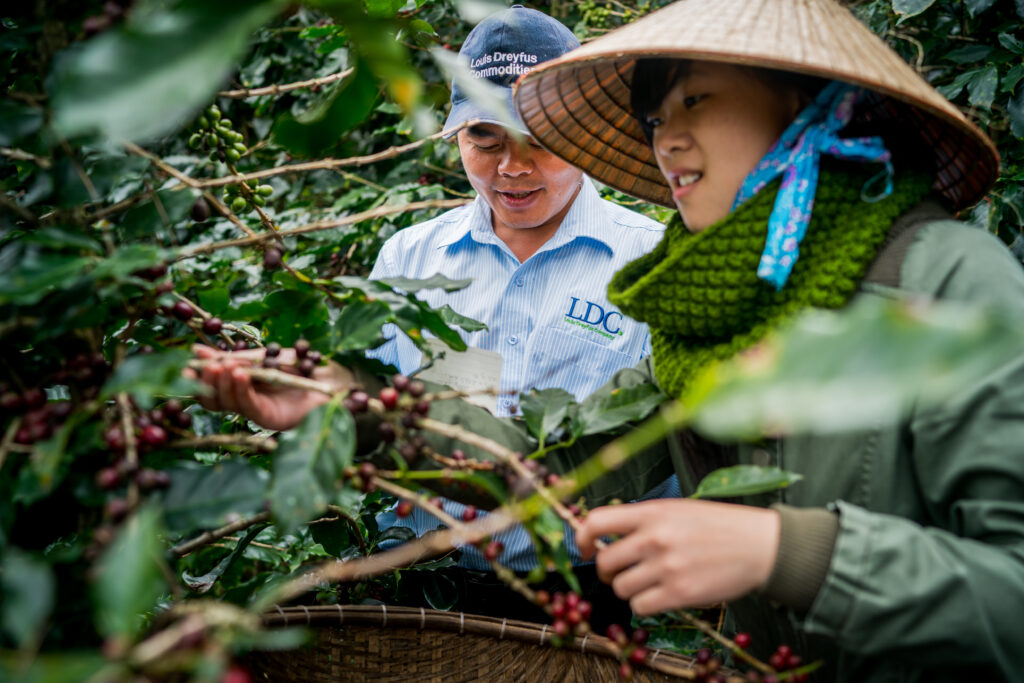 "We recognize that many problems are complex, and may take years and the commitment of multiple stakeholders to resolve. But we are on the right path to do so," said Do Ngoc Sy, JDE's Sustainability Manager for Asia Pacific.
The three-year project started in June this year. By the time it concludes, it will have trained 3,000 farmers in sustainable agriculture practices, using seminars, field training and demonstration plots. Building on a similar project in 2016, which supported another 3,000 farmers in the Central Highlands region, the two projects combined will have benefitted a total 6,000 farmers and their families.
Hidde Eikelboom, LDC Vietnam CEO and Country Head of Coffee, encouraged participating farmers to give feedback throughout the project, to ensure the approach adds value to their farming.
"Through this partnership and many others like it, LDC remains committed to working with local growers on sustainable agricultural practices to meet growing industry demand for product traceability and food safety, while ensuring farmer welfare," he said at the project launch ceremony.
As part of the project, LDC agronomists advise farmers on crop diversification, intercropping and other techniques for climate resilience. Increasing crop resilience at scale across the landscape contributes to grower welfare, while buyers maintain supply and price stability.
"Access to knowledge and resources is incredibly important and helpful," says Mr. Nguyen Van Anh, coffee farmer group leader with more than 20 years in coffee farming, from Gao commune, Pleiku city, Gia Lai province.
Increased productivity could help many people in Vietnam, by contributing to poverty reduction, food security, and social stability.
"We must address the threats facing Vietnam's coffee production before it's too late," says Rozenn Kerviel, Coffee Sustainability Manager at LDC. "We want to boost farmers' resilience, helping them to adapt to changes in climate and to produce top quality coffee for future generations too."