LDC is among the world's top 5 merchandizers of wheat and corn, and has been active in grains in Australia for over 100 years.
Today, we originate and trade wheat, sorghum, barley, oilseeds and pulses in Australia, both locally and for export markets.
Our Global Grains & Oilseeds Value Chain
Each of our business lines is integrating further across the five steps of our value chain, as we respond to the need for a traceable and responsible supply line from farmer to consumer.
We share our expertise with farmers and producers worldwide, ourselves or with business partners and expert organizations, as part of our commitment to responsible, sustainable and traceable supply chains.
Once bought or harvested, we bring crops to our assets for the next stage in their journey. These are ethically and sustainably processed and refined, coming one step closer to the consumer.
Our strategically located network of silos, warehouses, transloading facilities and ports allows us facilitate access to market for local farmers around the globe and enable us to control costs and mitigate risk throughout the product journey.
We Research & Merchandize
Our depth of marketing and merchandizing experience is our greatest strength. All our platforms and regions rely on our market knowledge to ensure responsive supply.
We Customize & Distribute
We supply products to a wide range of customers, from large multinationals to local manufacturers and retailers.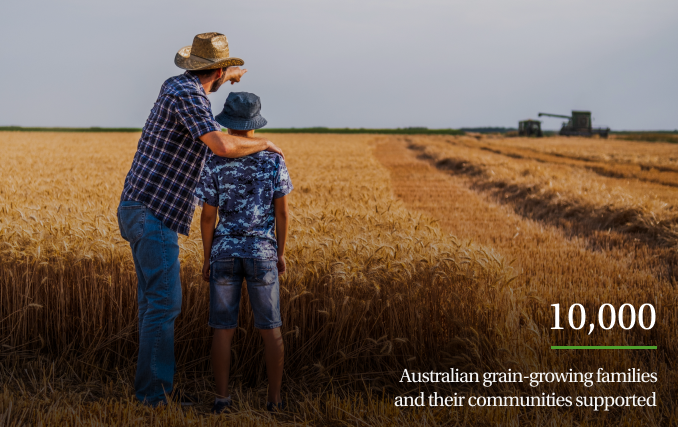 Strengths in Australia
We support over 10,000 Australian grain-growing families and their communities, customizing grain marketing plans to suit each grower's needs.
Our network of grain merchants in all of Australia's major grain-growing regions provides exceptional intelligence about the Australian market.
We own and operate multiple grain storage and handling facilities in Victoria and New South Wales, which feed our Melbourne Port Terminal and other grain terminals across the east coast.
Our strong team across Australia is expertly supported by LDC's global network of origination, shipping and distribution activities in key growing and consumption regions.
Working with growers on the ground and partnering with buyers across the globe, LDC is proud to be a trusted supplier of quality Australian grain to over 40 major markets worldwide.
Real-time Prices
View real-time prices with Grain Mate, LDC's comprehensive online platform for Australian growers.
Log in to Grain Mate to see live cash and contract prices for all LDC and non-LDC sites in Australia. Customize your preferences to view real-time prices important to you – at any time, on any device.
Indicative Daily Prices
For indicative daily prices for LDC and non-LDC sites across Australia, view our daily bid sheets below.