Anative of Istanbul, Pinar Dolen has a degree in Aeronautical Engineering, which is essentially rocket science. But she finds herself in a different universe: IT business analysis. With 15 years' experience under her belt, at Louis Dreyfus Company (LDC), Pinar serves as the Global Head of Back Office, Business Intelligence, and Innovation. Her colleagues translate that into: "The lady in charge of transformation".
Pinar began her career in Turkey as a business consultant, before gaining an MBA and joining Procter & Gamble (P&G) as an IT analyst. From there, P&G moved her to Geneva, where she joined LDC in June 2016.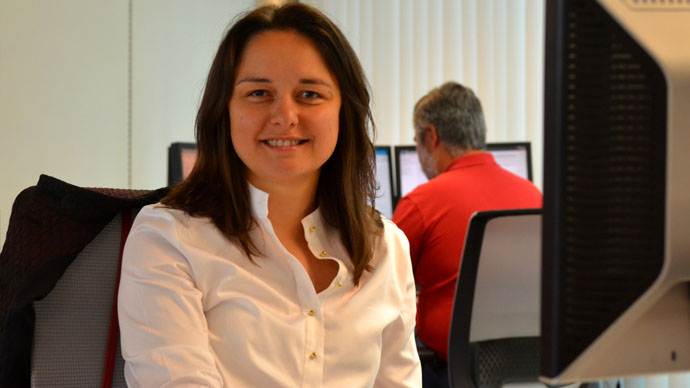 Throughout her career, Pinar has been putting her unusual skills to good use. "Businesses today can't exist without IT," she tells us. But beyond "existing", Pinar is mostly interested in results.
"Some 20 years ago, we imagined IT people sitting in a dark room and coding," she says. "Today, in the business context, an IT analyst solves problems and looks for solutions that ultimately make the company more competitive, efficient, and productive."
"Technology helps to make it happen."
Leading a team of people around the world, Pinar says she got into IT by chance. "Bringing ideas and seeing them implemented was very appealing to me."
Pinar is currently rolling out and implementing large-scale projects in enterprise resource planning and business intelligence at LDC. The aim, she says, is to use technology to allow faster data processing, easier retrieval of information, and establishing standards for company procedures.
"Using IT to improve business results is what drives me," she says. "I am interested to add value and to move the business forward."
Under water
Asked about the main personality traits that led her to where she is today, Pinar does not hesitate: "I go into the very detail of business problems. In order to improve and change something, you need to understand it to the core. Once you truly understand the business problem, you can find the solution through technology."
"I am inspired to learn. I can't imagine that I will ever stop learning."
Is the commodities sector an unlikely business for someone of her background? "Yes, but the constant need to adapt, to innovate, and to keep up with the rapid changes of commodity flows" is what makes her role very relevant.
Rocket science is often used as a synonym of something incredibly hard to understand. And along with that skill, Pinar seems to have found answers to some of life's most complicated professional and personal challenges.
Asked how she balances her frequent travel, living in a foreign country, and raising her young daughter, she says:
"I want to achieve the very best results. Whether I do it from the office, from home or anywhere else is for me to plan. I just need to make sure that I strive for the best results."
In this respect, she is lucky to be in Geneva, combining the small town convenience with all the comforts that a big city can provide.
And to switch off? "I go under water," she answers. Diving is her passion.