I was born and raised in Colombia. This is my country. I don't think I will ever want to move. And if you work with coffee in Colombia, there really is no need to leave. We have plenty of things to keep us busy. Lucky for me, I work for Louis Dreyfus Company (LDC). I do what I love, for a global business, in my own beloved country.
This is my story.
After I finished my studies, I embarked on a career path that taught me about all the different qualities of coffee, travelling the country from the mountain range of Sierra Nevada de Santa Marta in the north down to the southern town of Pitalito, not too far from the border with Ecuador. Today, at LDC, I draw from this experience to make sure our coffee meets our customers' specifications, so that people elsewhere in the world can taste – and discover – the coffee grown here.
Coffee in the air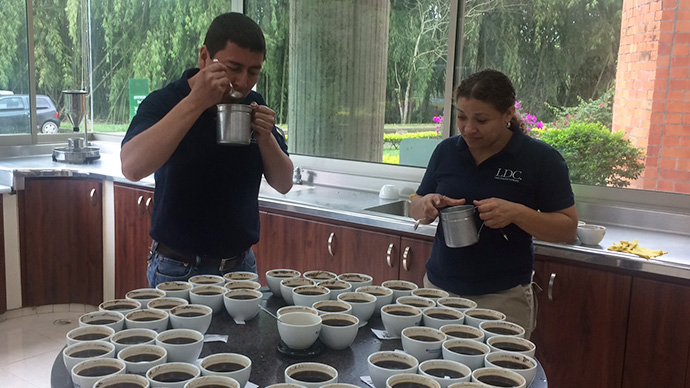 Near the roasters, you can almost taste the coffee in the air. The coffee that grows in the north is thick, with stronger flavors and character. But in the south, the local climate is colder and the coffee takes longer to grow. It produces additional sugars, giving the coffee a very distinct taste. It is milder and sweeter. A dream…
I was not always a coffee expert. When I grew up in Bogotá, a "non-coffee" municipality, the difference between coffees was a complete mystery.
But at university, I studied industrial chemistry and got the chance to research the chemical profile of coffee from Nariño at Colombia's National Federation of Coffee Growers. I often visited the sampling laboratory of a small company exporting different varieties of coffee.
Every harvest has its taste
While there, I helped prepare coffee samples, learning as much as I could from coffee experts, and becoming more and more fascinated by the complex world of coffee. Once I had finished my thesis, more than 20 years ago, the lab offered me a job.
Coffee is the only job I have ever had since then. It is my life.
Experience at the laboratory was certainly useful when I started at LDC in 2007. Having just arrived in Colombia, the company was setting up its own lab, establishing new quality procedures.
My biggest challenge was to learn the new quality requirements for LDC's customers. Many of these were new to me.
When you work with coffee, you learn something new every single day. More than that, every harvest is different. It has its own taste. And so, there is always something to look forward to. Every season. Every harvest. Every cup.