A snapshot of LDC's journey in a country that is dreaming big.
With its 3.4 million inhabitants and four times as many cows, Uruguay is sometimes described as "one big farm" – so it's no surprise that farming is the country's most important economic activity, with agriculture and agri-industry accounting for 12% of GDP, and about 70% of total exports.
It has been almost 20 years since LDC's story began in Uruguay, where we have become one of Uruguay's leading agro-industrial companies and see opportunities to continue to grow with the country's important agricultural sector.
A small agricultural dynamo between South American giants.
Agriculture has always been the main economic engine of Uruguay, whose geography and temperate climate are ideal to grow a variety of winter and summer crops, and where deep-water ports facilitate agile production exports to the world.
While relatively small compared to neighboring Argentina and Brazil, the country's producers have stayed at the forefront of new agricultural technologies: from the early adoption of no-till farming, to their openness to biotechnology and investment in irrigation systems. And as the government has legally enforced the responsible use and maintenance of soils, production is managed with care for natural resources, making this a sustainable activity that transcends generations.
All this represents, without a doubt, an attraction for a company like ours, which places such emphasis on the sustainable production of the goods we market.
Working from solid foundations.
LDC entered the Uruguayan market in 2002, recognizing the country's fit with the company's core activity to meet customer demand for agricultural products around the world.
Our global expertise and network, which includes important oilseed crushing plants in the region, combined with our local team's deep understanding of producers' needs, were key to establish LDC as a key player in Uruguay.
Today, we hold 30% of the domestic market share for grains and oilseeds, through LDC's five commercial offices in the country's main agricultural areas, two grains and oilseeds elevators, a fertilizer warehouse and activities in all of Uruguay's main exporting ports.
LDC has also benefitted from Uruguay's solid state institutions, policies and regulations, which promote investments in agriculture and professional services. The country being a regional leader in this area, LDC has positioned itself as an important employer – both at its own facilities, including several industrial assets, a center of expertise for international execution and a shared services center, and at those managed with local partners, including warehousing and port operations throughout the country.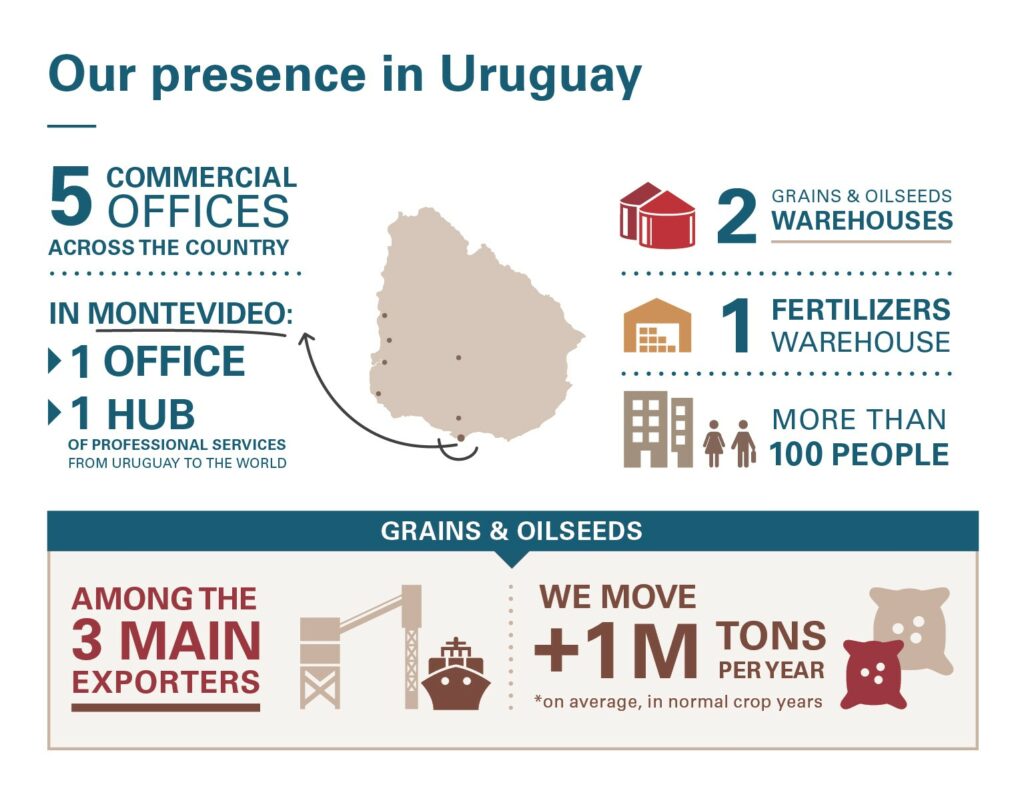 LDC's presence in Uruguay strategically complements our origination and industrial activities in Argentina and Paraguay, as our processing plants and fluvial freight company enable us to transport products on the Paraná and Paraguay rivers – among the three countries and beyond, to the world.
Connected with global consumer trends.
LDC's strategy involves increasing vertical integration, diversification through value-added products, as well as investments in innovation. As we pursue this strategy, we are forming partnerships to accelerate growth in consumer markets – for instance in China, through our joint venture to produce high-end feed for aquaculture, to meet the country's demand for fish as a popular protein alternative to meat.
As we move further downstream, closer to end-consumers, we also need to secure the significant strength that is our ability to source the agricultural products that are essential ingredients for food and feed, including grains, oilseeds and others.
Continuing to reinforce our efficiency and capacity in key origination countries is therefore essential – including in Uruguay, where we support and work closely with farmers, whose productivity and resilience is fundamental to our success and to long-term food security.
Opportunities to lead on sustainable, traceable supply chains.
Customers are increasingly concerned about food safety and sustainability, a trend accelerated by the Covid-19 pandemic, with food, feed and ingredient industries increasingly requiring guarantees of compliance with safety and sustainability standards in all our activities: production, merchandizing, processing, transportation and – increasingly – packaging and distribution.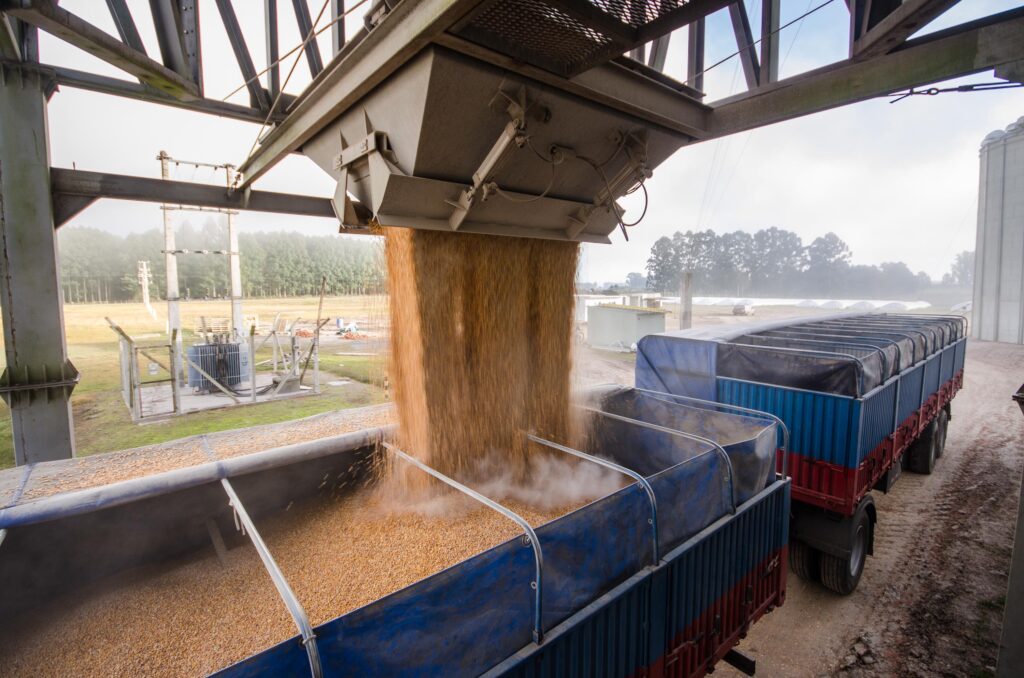 As we increase our presence across the value chain, it is crucial that we do so with a commitment to create fair and sustainable value at every step of the journey: from producer to end-consumer. LDC is already working in that sense – for instance by driving soy supply chain transparency, as part of our global Soy Sustainability Policy commitments.
We see great potential for Uruguay to differentiate its products through traceability. Having been the first country to enable full supply chain traceability for bovine production, leveraging new technologies, why not do the same for its agricultural products, which comply with sustainable soil management laws?
Learn more about LDC in Uruguay, an important part of a network with global reach and impact.