Helping to shape a more sustainable shipping industry with state-of-the-art vessels to transport our citrus juices and by-products.
Aligned with our vision to work toward a safe and sustainable future, we continually work to influence positive change for more sustainable practices across our activities.
We take another positive step as we begin operating two new eco-efficient vessels, dedicated to the transport of citrus juices and by-products in climate-controlled tanks, from our export terminal in Brazil to destination markets in Europe and North America.
Our juice story began in 1988, when we acquired our first orange processing plant in Brazil. Since then, we have expanded our activities across 70 countries, with expertise across all stages of the value chain, and have grown to be one of world's largest producers and merchandizers of citrus juices.
Managing 38 citrus farms in Brazil, with over 25,000 hectares of citrus groves, and three processing plants in Matão and Bebedouro and Paranavaí, today we are strategically located across the country's citrus belt. Two logistic terminals – one in Santos, Brazil, and the other at North Sea Port in Ghent, Belgium – enable the worldwide distribution of citrus juices and by-products.
Our first transatlantic juice shipment between these terminals took place in 2000. 20 years later, we continue to invest in our fleet to meet our customers' needs in a safe and sustainable way.
Our Head of Juice for EMEA and Asia, Gijs Rotmans, explains.
Why change your fleet now?
In recent years, three vessels transported our juice products from Brazil to Europe – one fully dedicated to LDC, the other two used 50% by LDC. To meet growing demand in Europe, the US and Asia for not-from-concentrate (NFC) juices, which require more volume to transport compared to frozen concentrate orange (FCO) juices, we are investing to increase our fleet operations.
We also increased our storage capacity for NFC juices by more than 50%, and our blending capacity by more than 20%, at our port terminal in Ghent, Belgium in 2019.
What is special about the new eco-efficient vessels?
Each ship is 180 meters long and 30 meters wide, and is equipped with tanks for customized products. Together, the vessels can transport up to 50,000 tons of juice, offering 20% more capacity compared to the three vessels in our previous fleet.
As part of LDC's global efforts to integrate sustainability across our value chains, these new state-of-the-art vessels also give us more autonomy and efficiency to operate across preferred export routes, helping to reduce fuel consumption by 40% and sulfur emission levels by 95% per ton of product.
When will the new vessels start operating?
The first vessel started its journey in Brazil on July 16, 2020, and arrived at our terminal in Belgium on August 12. The second vessel is scheduled to start operating in August.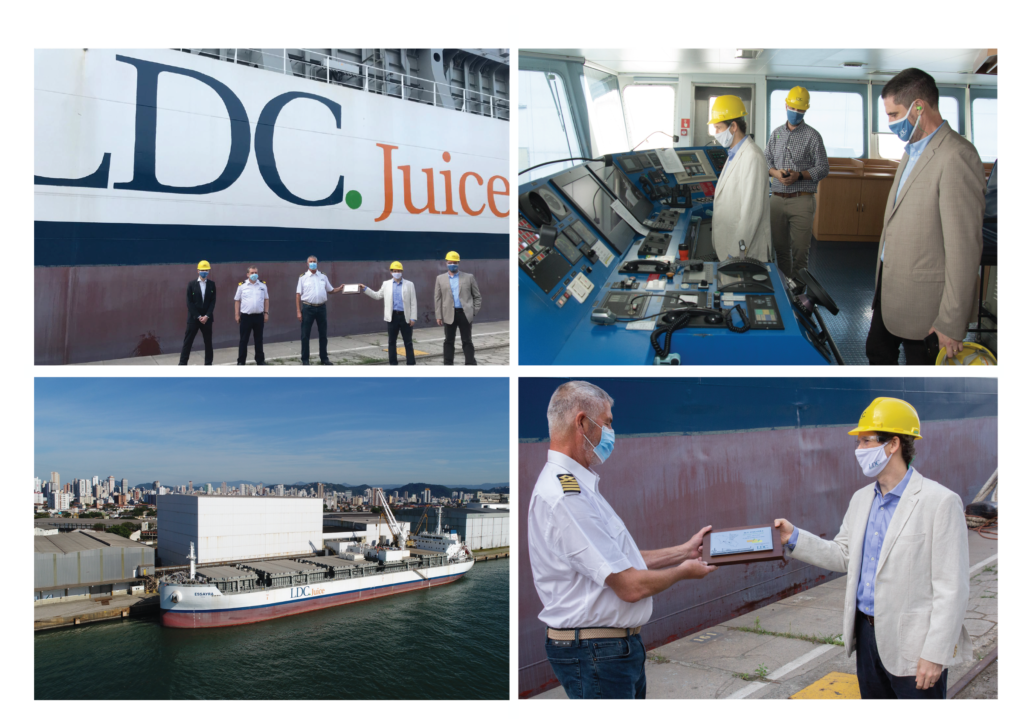 Tell us a bit more about the juice that these vessels transport.
LDC is active across the entire citrus juice value chain – from farming to distribution of packaged juices – to produce 100% natural orange juice with 0% artificial additives. And it's important to us to do so sustainably and traceably.
The majority of our farms are certified by the Rainforest Alliance, and we also have chain of custody certification by the Rainforest Alliance, helping to ensure the traceability of our products throughout their journey – from certified farms to our plants, on to our export terminal in Santos, and finally to our destination terminal in North Sea Port, Belgium.
Over more than 30 years in the juice industry, LDC has worked to drive positive change in our value chain, and we continue to do so today, working with a range of partners and experts, to assure customers and consumers that the products they buy are responsibly sourced, processed and transported.
Don't miss our new video, exploring our juice activities in Ghent, Belgium.