At Louis Dreyfus Company (LDC), we see Safety, Health and Environment (SHE) matters as key priorities, and enablers of our long-terms success. As a company, we are dedicated to creating a safe workplace wherever we operate around the world, with limited environmental impact, and to ensuring our people, as well as any third party working with LDC, return home safely every day.
In addition to providing all necessary protective equipment and duty-specific training on safety, and ensuring that our facilities are built and maintained to operate safely, we also rely on our employees, who take personal responsibility for their safety, and for that of their colleagues.
In this post, you can find out more about some of our different roles in SHE. Meet the people whose job it is to make sure we all work safely.
Employees and contractors understand their role within SHE, then we will achieve our goals. There is a personal sense of fulfilment whenever we are able to work collaboratively to further improve SHE at LDC.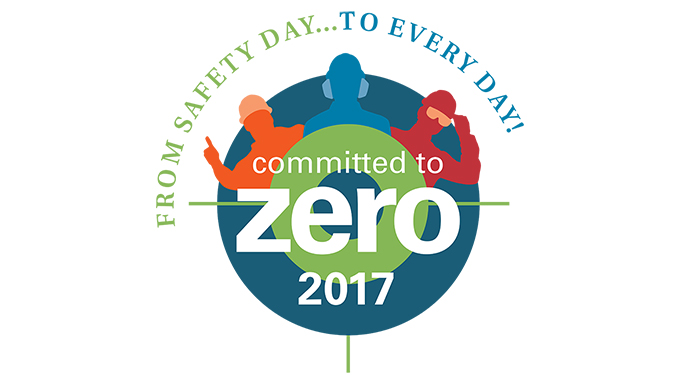 Grant Daniels – Regional SHE Manager, EMEA and Asia, based in Geneva, Switzerland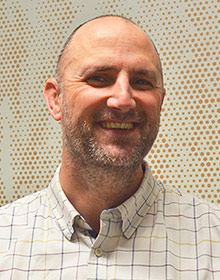 I think most SHE professionals would agree that they do this job because they care about people. We want everyone to be safe. Working hard to successfully eliminate, reduce or control the risk in our activities is a real reward. My role includes a lot of travel, so I'm often out of the office. When visiting assets, I try to spend as much time as I can on the "shop floor", meeting our employees and contractors to talk about SHE. Our area of the business often relies on people doing the right thing in the right way, so understanding human behavior, including what motivates people, is key. If our employees and contractors understand their role within SHE, then we will achieve our goals. There is a personal sense of fulfilment whenever we are able to work collaboratively to further improve SHE at LDC.
Pascal Lepez, Industry Project Management Officer, and contributor to Global Process Safety Management – Core team leader, based in Lyon, France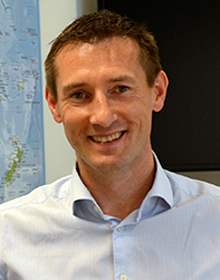 What I find inspiring about my job is that every day, we are looking after the future. My background is in engineering, and my role is to define and build the safest and most sustainable future from an industrial point of view, in order to ensure our best possible performance. Each of us has a personal responsibility to work safely. My contribution to this is actively reinforcing all Process Safety aspects in our processing and logistics activities; the aim is to identify where the risk lies in our operations, and apply the most appropriate safeguards to protect our people, our plants and our business. This includes ensuring we make the appropriate investments in the right location, focusing on the integration of Occupational and Process Safety in our assets. When it comes to safety, we know that to succeed, we must be committed, work hard, and above all, persist and continue to learn. I'm lucky to interact with talented colleagues across our regions, from Asia to North America, on a daily basis. Our most important collective achievement is to have significantly reduced the number of accidents we see across the company every year.
Riley Yan – SHE Country Manager, China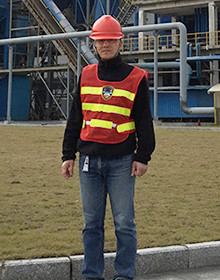 The aspect of my job that gets me out of bed every morning is ensuring that my colleagues work safely and healthily, and that our operations are environment-friendly. Days at industrial sites are very busy, and it's part of our role in SHE to align the plants' activities with the corporate objectives on safety and sustainability. We achieve this by making the topic of working safely part of our routine contact with industrial sites in China, through SHE meetings and site visits, for instance. This helps us assess how SHE measures are adopted at the sites, and makes it easier for us to support them where and when needed. I find the greatest reward in helping our industrial colleagues, especially newcomers, to take greater personal responsibility for safety and to change their mindset from, "the company wants me to be safe," to "I want to play my part to be safe."
Robert Finkral – SHE Manager at Elkhorn Valley Ethanol in Norfolk, Nebraska, US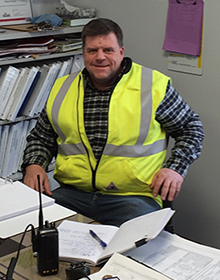 As a SHE Manager, you don't really produce anything. When I look back at my day, I can't point to something I made or built, so I must look at the big picture: did I meet all my deadlines, did we have any injuries – that is what matters to me. We have a very strong team here in Norfolk. We all work very well together and help each other out. There is so much to do that the most challenging task it to prioritize what is most critical, and manage your time accordingly. A regular day brings a flurry of activity, from staff meetings to training and preparing reports. I don't think there is anything unique about our activities here. I believe every LDC asset has the same goals of zero accidents and minimal environmental impact. I take the safety of each of my colleagues personally. My biggest challenge is to ensure they have the training they need to recognize any hazards or risks they may encounter during their day, and to know how to protect themselves.
Ralf Hilscher – SHE Asset Manager at Wittenberg, Germany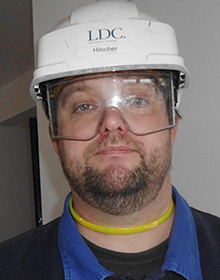 I'm motivated by working in an environment where our ultimate goal is to reach zero accidents. Industrial sites carry inherent risks in their operations – and we all must work together to manage and minimize them. When an incident with injuries happens, we are all impacted; as a site, as a team, as colleagues. Our greatest challenge here is to ensure all colleagues are aware of the importance of risk assessment and risk awareness on the job. To make this part of our working culture, we bring up this topic daily. We hold weekly safety meetings and do daily tours of the plant, particularly where structural works are ongoing. My greatest achievement in SHE so far is having improved safety measures for our contractors, as those who work with us also must comply with our safety measures and accept our safety culture.
José Paraguay – SHE Manager, South Region, Brazil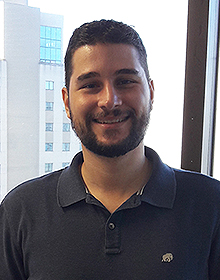 As a SHE professional, my main responsibility is to ensure my colleagues are working under safe conditions. My week is very dynamic, as I oversee SHE in more than one industrial asset. I travel a lot in order to help solve SHE issues, and I really enjoy it. This gives me the opportunity to interact and work with people all over the country, who work in different functions and areas of the business. My greatest challenge is to provide the best long-term solutions to specific issues; we need to move past identifying the problems, and work in partnership with our industrial colleagues to resolve them. Establishing and growing a strong SHE culture amongst all LDC units in the country can also be challenging. Leadership is key in this case, and empowering our local leaders at all levels is essential.
Heloa Silva – SHE Specialist at Itumbiara and São Simão, Brazil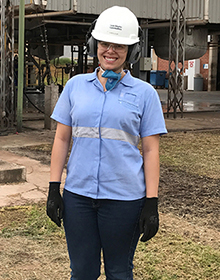 In my role, I'm deeply involved in the industrial assets' operations, especially with the implementation of our Process Safety Management program. Here, every day is different. Once I arrive at work, there is always plenty to do: team meetings, new projects, site inspections, and sometimes travel to other assets. For me, my time is better spent this way than at my desk all day; there is a nice balance to it. The most challenging tasks in my role are related to people: how to influence their decisions and safety behaviors, and how to develop them as professionals. Ensuring everyone follows safe behaviors is a challenge, but it's so satisfying to see people's collective efforts to innovate and contribute to process safety. Our SHE team is well integrated, and that enables us to solve, or even anticipate, problems.
To find out more about LDC's commitment to safety, please visit the dedicated page on our website.