The Award Ceremony for the 9th Top of China National Grain awards was held in Beijing on 7 December, honoring the companies and individuals who have helped shape China's grain industry over the past year. In recognition of its achievements as a responsible corporate actor that brings products of excellent quality to the market, LDC China was named to the "Top 10 China Grain and Oil Groups" and the "Top 100 China Grain and Oil Enterprises" lists. James Zhou, LDC Global Vice President and regional head for LDC North Asia, was also honored as one of the "Top 10 Influential Chinese Grain and Oil Figures".
Established in 2011, the Top of China National Grain awards are hosted by Grain News, an authoritative industry media outlet in China. Over the past nine years, Grain News has been committed to recognizing the work of leading grain and oil companies, brands and individuals in China who have demonstrated strong social responsibility and wide influence in the industry. This year's theme was "Benefiting People's Livelihood with Excellent Grain and Oil Brands". A total of 300 grain and oil companies were nominated for the "Top 100 China Grain and Oil Enterprises" awards, with 90 companies, 80 brands and outstanding products, as well as 30 entrepreneurs also recognized across a range of different categories.
As a long-standing and committed partner to China, LDC leverages its global network to offer sustainably produced, safe and high-quality food to Chinese customers and consumers. Looking back over the past year, we have focused on strengthening existing relationships and exploring potential new collaborations with leading Chinese companies, including Luckin Coffee, Meituan Dianping and HAID Group. With a vision of working toward a safe and sustainable future, we have been embracing new technologies and food innovation in the market to promote our offerings, responding to China's growing demand for diversified, reliable and high-quality agricultural products.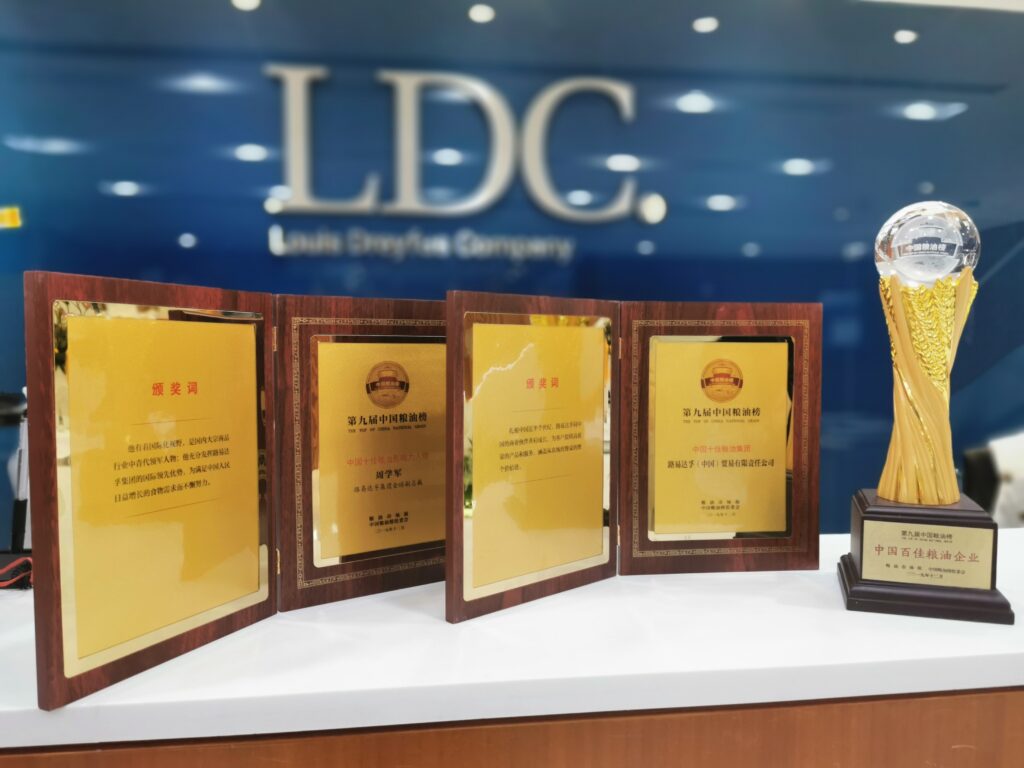 Meanwhile, LDC continues to move downstream to meet the increasing demand from Chinese customers and consumers for high-quality food, with a more integrated, transparent and traceable value chain – from farm to fork. As part of our move downstream, in August 2019, we partnered with Meituan Dianping to launch a packaged cooking oil brand, Chef Fu. In addition, we are leveraging our investment in our Tianjin plant to build a one-stop solution for restaurants and catering industry players to conveniently source quality products. Underscoring our dedication to satisfying China's evolving consumer preferences, during the 2019 China International Import Expo (CIIE), we showcased our growing product portfolio that now includes a new packaged cooking oil "Mastergold".
This latest recognition from industry experts and consumers encourages us to continue to build on our strong momentum in China, to support the development of a robust food industry, providing consumers with safe, healthy and sustainable grain and oil products.