In solidarity to our local communities in India, LDC teams across China, Singapore, India and Switzerland worked together and with external partners, to donate oxygen concentrators and cylinders to hospitals across the country.
With an alarming spike in Covid-19 cases since late April sending millions to overcrowded hospitals, India's need for oxygen concentrators and cylinders has surged.
In solidarity with our local communities, LDC's Freight team in Asia launched an initiative to source, transport and deliver 30 oxygen cylinders to hospitals in Paradip and Haldia, India.
Thanks to the collaboration of our shipping partner Erasmus Shipinvest Group, the oxygen cylinders set sail from Singapore on board period ship M/V Glory Amsterdam on May 10 and arrived safely at Paradip port on May 18.
Jean-Romain Roig, LDC's Global Head of Capesize and Panamax, said: "We have witnessed in the past year how this pandemic is a transboundary threat. This is why we must work collectively to support each other, and we are grateful to have a reliable partner like Erasmus Shipinvest Group to bring the oxygen cylinders safely to India."
"As a global shipping enterprise, Erasmus Shipinvest Group is honored to participate in LDC's effort to donate oxygen cylinders to India, carried onboard our panamax bulk carrier M/V Glory Amsterdam, one of various ships owned by Erasmus group dedicated to serve LDC's ocean transportation needs with long-term time charter employment," said John Su, President & CEO of Erasmus Shipinvest Group. "Erasmus group shares LDC's social values, espoused by both our companies for many years, and look forward to continue providing our utmost support to meet the needs of consumers around the world."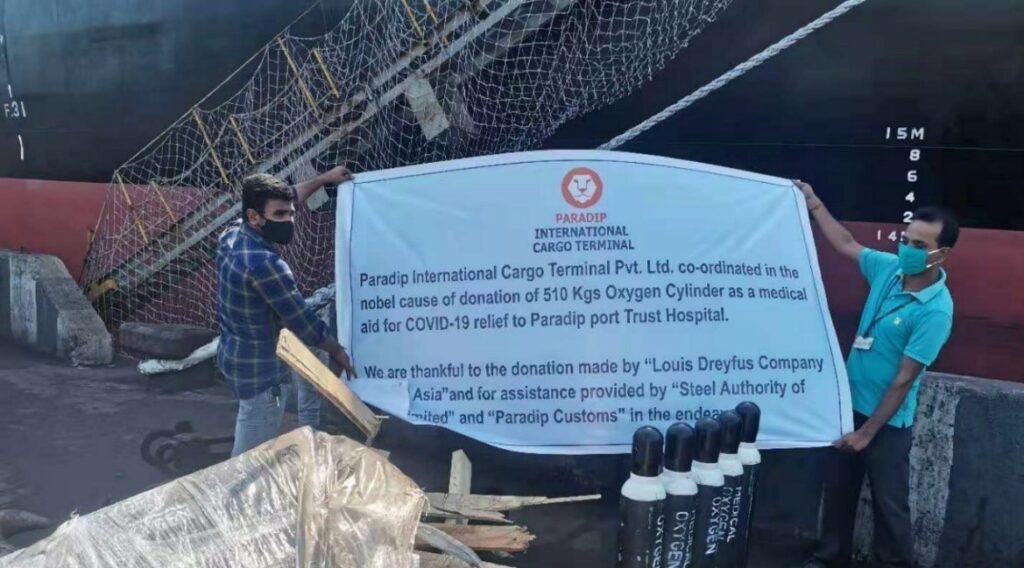 In parallel, LDC secured 50 oxygen concentrators through our global network for donation to local hospitals in Kutch, Gurgaon and Bangalore, near our operations.
This was no easy task, as concentrators are scarce since the spike in cases. Determined to secure the devices to help save lives, LDC's team in India worked relentlessly to secure the product as quickly as possible through suitable sources in its network.
Our teams in China responded to the call, provided a list of possible providers of oxygen concentrators and coordinated with the India team despite complex pricing and logistics challenges.
"It is heartening to see the strong support from colleagues from different teams and countries, uniting to support India through this very difficult time. LDC will continue to support relief efforts to help local hospitals, while taking all possible steps to protect our employees and partners as we fulfill our role to keep essential product supply chains moving," said Vipin Gupta, LDC's India CEO and Head of Grains & Oilseeds.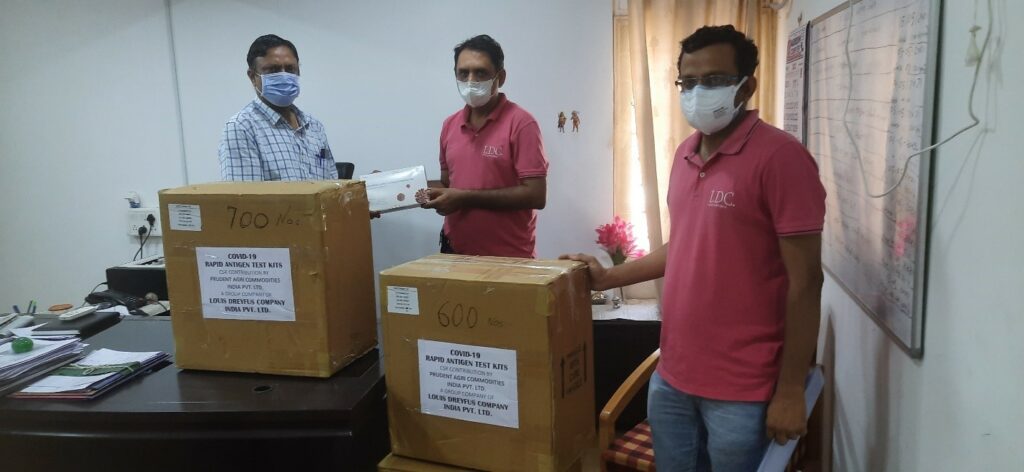 Besides donating oxygen concentrators to local hospitals, LDC donated 3,000 rapid antigen testing kits to India's Kutch district health authorities, and free ambulance service in Koppa, Karnataka, to transport Covid-19 patients from villages in Periyapatna Taluka to the local Covid-19 hospital when needed.
It has been said that no one is safe until everyone is safe. Despite the challenging circumstances, we are proud of, and grateful to our people and partners for standing in solidarity to combat Covid-19, in India and around the world.