LDC's Global Head of Sustainability for Coffee, Olivier Laboulle, traveled to Mexico in May 2022 to meet colleagues and partners after two years of Covid-19 restrictions, strengthening ties, reviewing progress on sustainability-related interventions and discussing plans toward implementation of LDC's zero-deforestation and native vegetation conversion commitment.
Olivier kept a journal of his trip and shared it with us.
Wednesday, May 11: Departure
1pm: It's my first flight since Covid restrictions were put in place in Europe in early 2020. Walking through Geneva airport without wearing a mask seems both familiar and yet unnatural – an odd sensation.
I buy a large bottle of water before going through security, which I'm then forced to leave behind… Apparently, I need to re-learn the basics.
As I board the plane, I think of all the people eagerly waiting for me in Mexico to share their personal stories, sustainability challenges and ideas on climate change reduction strategies, to name just a few.
This leads me to calculate my carbon footprint for the return flight to and from Mexico: about 3.5 metric tons CO2 equivalent. Right then and there, I feel a strong determination to make this trip count.
Thursday, May 12: El Platanar
10am: I'm with Jenny, our Regional Sustainability Manager, and Greg, Mexico Sustainability Manager. After an early flight from Mexico City to Tapachula airport, near the border with Guatemala, we're driving through the Chiapas region to meet a group of farmers recently engaged in LDC's new responsible sourcing program (RSP).
While there is a large and growing demand for responsibly sourced coffee, not all farmers and groups can access FairTrade or Rainforest Alliance certification overnight. That's why, as much as our RSP requires a minimum level of good practices (such as non-use of hazardous pesticides), it also provides support and training for farmers who aren't yet able to fulfill certification requirements but are on a path of continuous improvement toward greater sustainability.
This program is still in the pilot phase, but I'm keen to hear what the farmers' experience has been to date. Their feedback is important to help us improve the program and have it recognized by the Global Coffee Platform under its 'Equivalence Mechanism' later this year.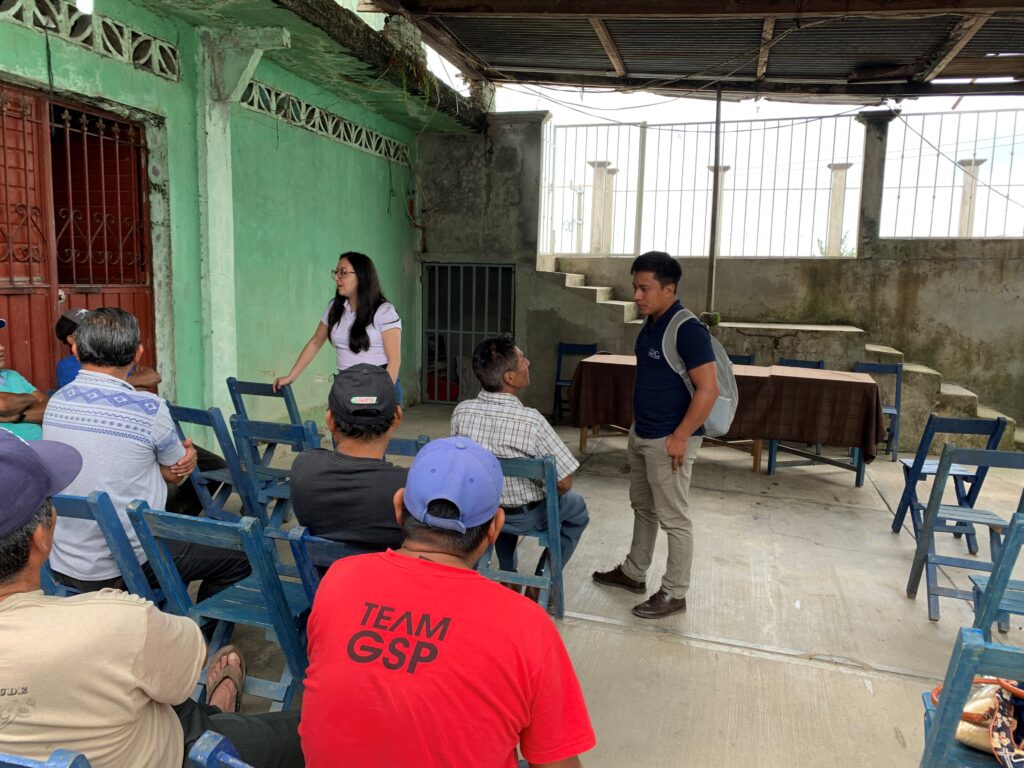 11am: The meeting takes place in El Platanar, a small community tucked into mountainous terrain at an altitude of 1300m. It feels very isolated. And the phone network is out.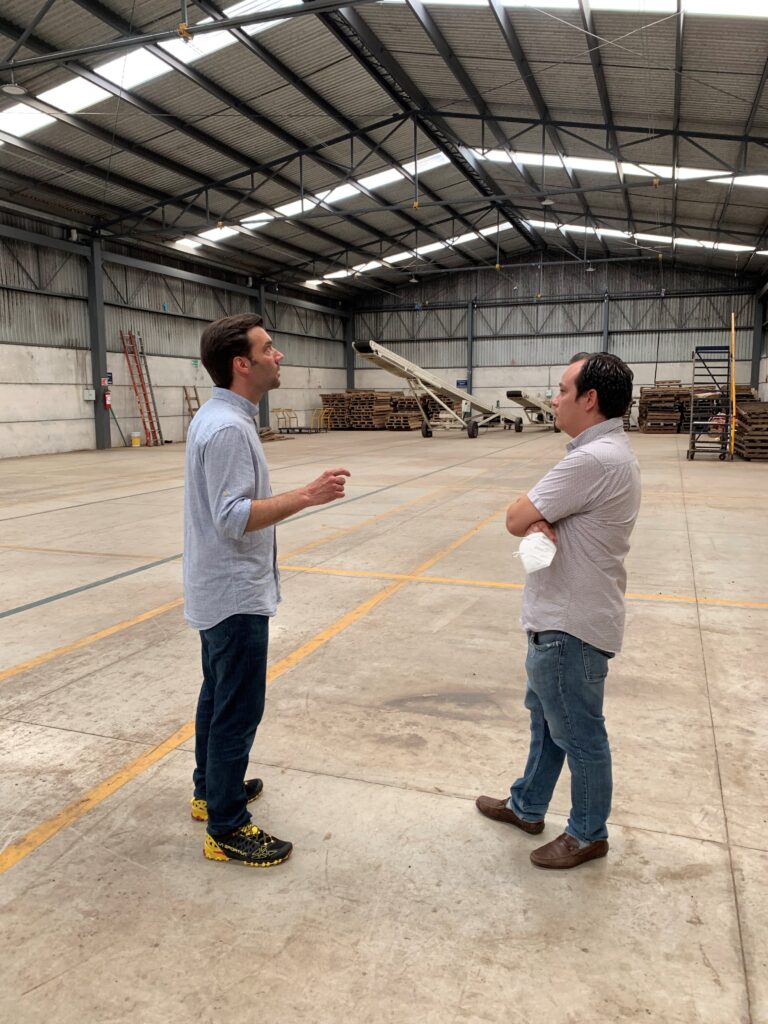 The farmers are waiting for us. Men on one side, women on the other, all seated on chunky, foldable blue wooden chairs. I notice a coffee plant growing through the cracks of a nearby house wall, next to the open-roofed warehouse where we're holding the meeting.
We open the discussion by asking the farmers about LDC's pilot program. It's a town-hall type format. A few men stand up, introduce themselves and speak their minds – the tone is cordial, but frank. They wear baseball caps or more traditional cowboy hats. We speak of rust-resistant seedlings, coffee prices, premiums, training on good agricultural practices and fertilizers. They speak of other projects that came and went before LDC's. Of unfulfilled promises. I feel their trust will be hard-won.
It's always tempting to promise the moon, but at LDC we prefer to be upfront. I listen in admiration as my colleagues navigate the sometimes tricky discussion with honesty and compassion. Explaining the objectives, detailing the extra work that farmers will be required to deliver, while highlighting the potential benefits. There are no shortcuts to sustainable coffee, unfortunately. It's a long, slow journey, but at LDC, it's one where every actor in the value chain is treated as a partner and brought onboard.
2pm: A few kilometers after leaving El Platanar, I finally catch a couple of signal bars and my phone pings. I receive a message welcoming me to Guatemala. So much for big data, mobile apps, farmer digitization and real-time weather info as silver bullets for sustainability issues… Also, how will I explain Guatemalan roaming fees to accounting when I return from a trip to Mexico?
4pm: We stop on the way back to Tapachula to meet Roberto, a coffee buyer who recently joined LDC, and Edson, the warehouse manager in Tapachula. Outside the air-conditioned office, the warehouse is hot and stuffy. There isn't a single coffee bean in sight, the crop is nearly over in Mexico. Only a few empty coffee bags are stored on pallets.
I ask Roberto and Edson about traceability and the segregation of certified volumes in the warehouse. We discuss the roll-out of our new traceability solution, which we have just successfully piloted in Colombia. Thanks to this new visualization solution, LDC clients will soon be able to click any certified contract and instantly trace each coffee bag back to individual farmers.
Traceability on its own has little intrinsic value, but when used to demonstrate the absence of deforestation or claim carbon reductions by a particular farmer group, it has the potential to add tremendous value to the product and generate additional premium for the farmer, ensuring continued access to markets with new regulations. It's one of the many keys to the sector's many challenges.
Friday, May 13: The Cobbler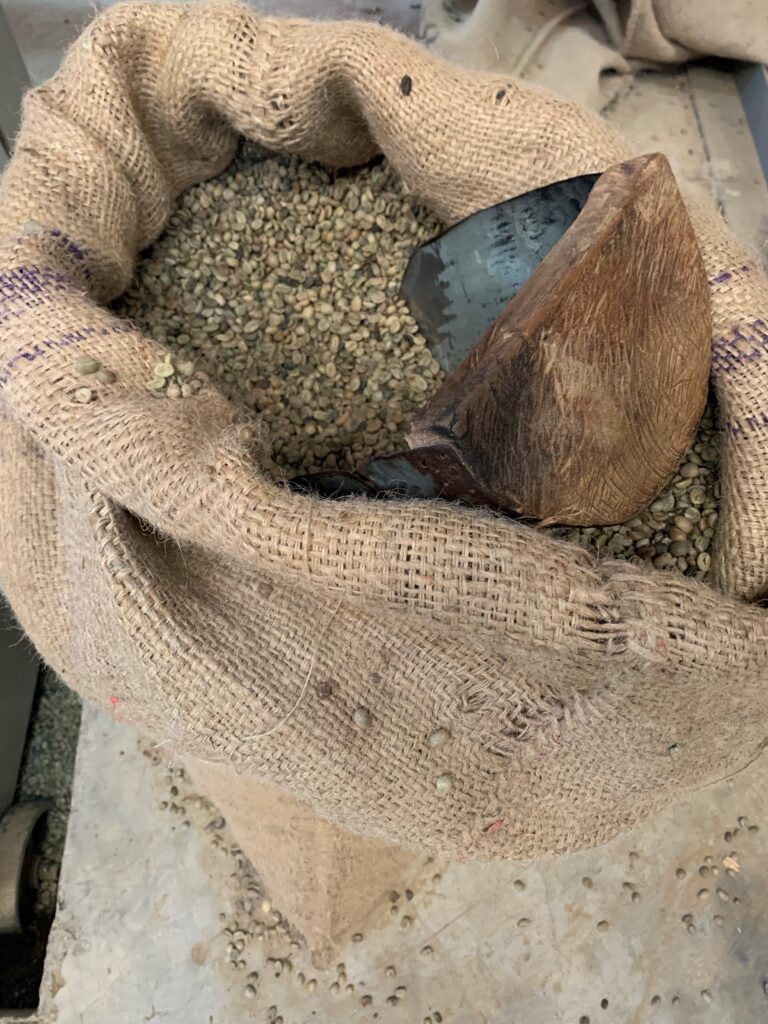 11am: We pay a visit to one of LDC's direct suppliers, a talented local entrepreneur who has just finished building an impressive new warehouse. It's 34°C in Huixtla today. The sun is high, and I can't find any shade on the parking lot in front of the warehouse, while I take five minutes to Facetime my wife and eldest son, before he goes to bed. It's 7pm at home – and much, much cooler!
The supplier processes cherries into green coffee, which is then sent to LDC's main warehouse in Perote. I raise the need for carbon-neutral coffee. He is unfamiliar with the concept.
I describe scope 1 and 2 emissions and use his dryer, which works on gas, as an example: "These are scope 1 emissions," I say. I also tell Ramiro about the recent installation of solar panels on LDC's warehouse in Perote and the carbon commitments made by LDC and our clients. He senses a business opportunity and listens carefully. Before we leave, I promise to put him in touch with a Mexican company who could help with an assessment and carbon neutral certification.
When I leave the warehouse, the heat from the sun is still scorching. Despite the added fuel consumption, I crank up the AC. I mentally add this to my trip's carbon bill.
4pm: We are warmly welcomed at one of LDC's partner cooperatives. Like everywhere else in Mexico and the Chiapas region, the hospitality is wonderful here. A cup of freshly brewed coffee is put in front of me. I usually don't drink coffee that late but today I make an exception – my body clock still hasn't fully adjusted and I'm feeling tired.
Although I'm no coffee quality expert, I notice this coffee doesn't quite meet the profile we bought from this cooperative last year. When I mention this to LDC's local agronomist, she explains that farmers and co-ops always reserve the best coffee for sale and only keep the rejections for themselves.
It seems the cobbler really is the worst shod.
Saturday, May 14: Lavazza
3am: I'm wide awake. Tossing and turning in the hotel bed. Jetlag 1 – Olivier 0.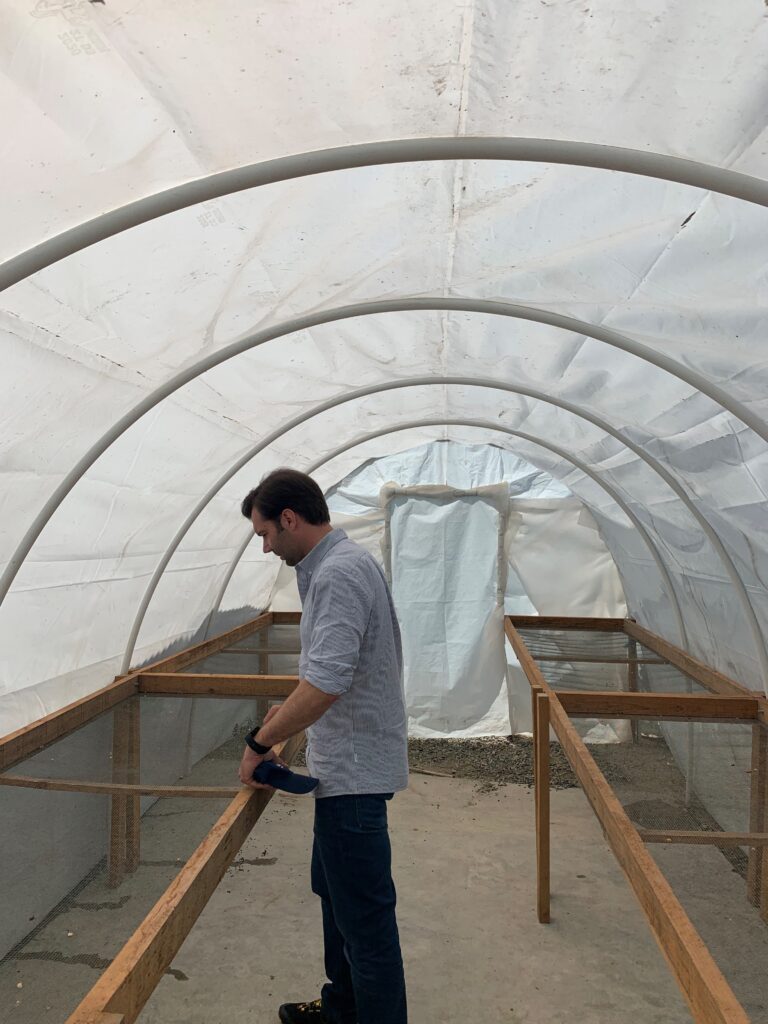 I remember what the founder of the cooperative, said earlier today. Another saying from the region: "Coffee keeps you from sleeping." – pause – "Not when you drink it, when you do business with it."
8am: Alongside a few representatives from the cooperative, we drive up the mountains outside Motozintla to visit farmers who benefited from a project we have been implementing with the Lavazza Foundation.
This project, launched just before the outbreak of the Covid-19 pandemic, aims to strengthen farmers' capacities to increase the yield and quality of their coffee. This includes training on good agricultural technics, establishing 20 demo plots to demonstrate the benefits of good practices, receiving drying beds to control and improve parchment drying process, and being guided through the Rainforest Alliance certification process.
The landscape is stunning. To the untrained eye, these are just forested mountains. But when you look a little closer, coffee plants appear everywhere, nestling under the dense and enormous shade trees. LDC's zero deforestation commitment will not be too difficult to meet in this region.
Nearby is a greenhouse containing drying beds made from local timber. LDC and Lavazza donated these to a number of farms. Traditionally, farmers grind the cherries, wash the miele from the coffee and dry the wet parchment coffee in the sun, on a cemented floor. This practice results in several problems. The coffee has to be brought in if it rains. Stones and other impurities may get mixed in the crop. And it's never completely protected from any passing dog who feels a certain urge…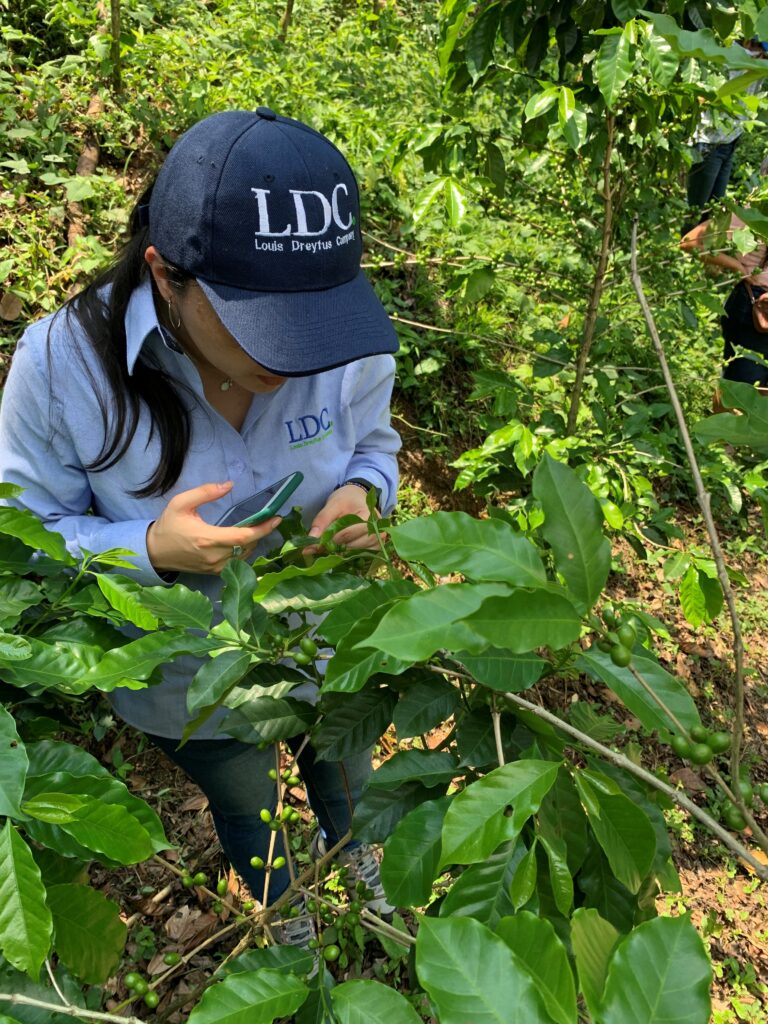 With the new beds, drying time is reduced by 3 to 4 days. It also means less work. Initial cupping indicates the quality might be better, too. During the next harvest, we plan on segregating coffee dried this way to see if it can achieve a premium on the market, thus further benefiting the farmers.
2pm: Later the same day we visit another farm. On a coffee leaf, Greg spots a tiny frog. We have no idea how she got so high up the plant. It's a very good sign, though. Frogs are like canaries in a coal mine, they don't live in degraded environments.
Here, coffee production is organic by default. Because of limited funds, many farmers have never used agro-chemical products. This is positive in many ways, but it also means that productivity is low, only about eight 60kg bags per hectare.
With an average farm size of 1.5 ha – and despite relatively high coffee prices – making a living from coffee alone is very hard. So many farmers earn extra money from tending other farms as day-laborers. They also grow other food and cash crops (maize for example) that contribute to the family's livelihood.
More generally, securing a living income is a critical issue for many smallholder farmers around the world, and coffee farmers are no exception. Solutions aren't straightforward, and only partially linked to commodity prices. The ICO Public Private Task Force has a roadmap to address the issue and, as a an active participant, LDC is financially supporting a survey to generate benchmarks in several key coffee-growing origins. Understanding the farmers' income and expenses is key to first get the right strategy in place and then measure the sector's progress.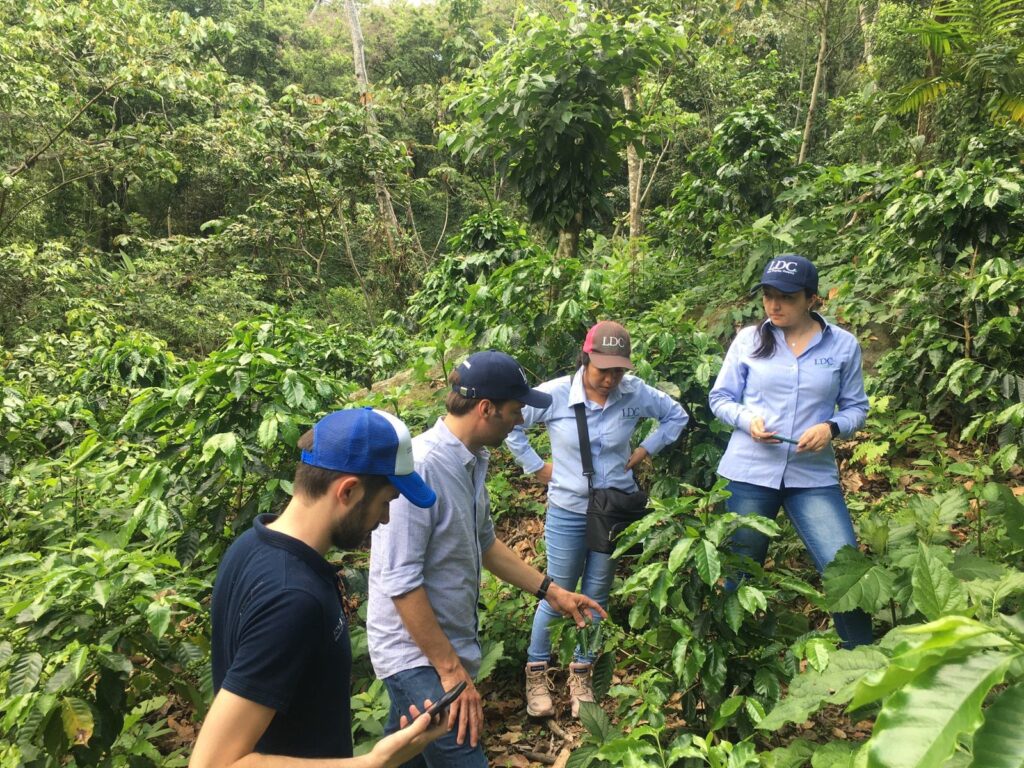 Monday, May 16: Tomorrow…
3pm: I'm back in the plane. As we cross the Gulf of Mexico to my next stop, another gem from the founder of the cooperative we visited the day before pops into my head: "There are 100 lessons to learn when growing coffee." – pause – "And you learn only one a year." I like this saying. It reflects the lifelong dedication of coffee farmers. The pride they take in their know-how and traditional farming methods. It's not just a job, it's a vocation.
I also remember a recent article I read, in which IPCC scientists say it's 'now or never' to limit global warming to 1.5 degrees. Unfortunately, we don't have 100 years to turn the sector around. We must do it now. And we must do it fast.
I feel the immensity and urgency of the task ahead. I can make a start by digging into the dozen new ideas I had during my trip about how to further support farmers with concrete actions.
I think the 3.5MT carbon emissions were worth it. And I will make sure of it!