We sat down with Fery Darmawan, LDC's Country Operations Manager and Regional Oilseeds Operations Manager, to discuss LDC's multifaceted community actions in Lampung, Indonesia, key to our commitment to grow with Indonesia for the long term.
Let's start with you, Fery – can you tell us a bit about yourself, your role at LDC and what sustainability means to you?
As a trained industrial engineer, my career has primarily been in industry operations, with the last 10 years being at LDC where I am responsible for the oilseeds and coffee assets in Indonesia. For me, sustainability means fulfilling the needs of current generations without compromising the needs of future generations, while ensuring a balance between achieving revenue growth, environmental care and ethical social well-being for labor and community members.
Why is it important for LDC to support local communities?
Supporting local communities is very important for several reasons. First and foremost, it's the right thing to do and aligns with our goal to contribute to sustainable agriculture and, ultimately, food security. By supporting local communities connected with our business – and especially the smallholder farming communities who grow our food – LDC can help to create sustainable food systems, better equipped to adapt to climate change and more resilient in the face of other crises.
It also helps LDC to build strong relationships with farmers and other community stakeholders on whom our business and wider agricultural supply chains depend for stability and access to high-quality products consumer around the world.
This is why community support is intrinsically connected with our business strategy and company purpose to create fair and sustainable value for all stakeholders – today and for the future.
What makes Indonesia such an important market for LDC, and how are we working to make a positive impact?
With its vast natural resources and agricultural potential, Indonesia is key to LDC's work to provide sustenance for a growing global population and meet increasing demand for food, fibers and biofuels – goals that Indonesia has important capacity to contribute to, creating opportunities for LDC to grow with the country.
As I mentioned, support for community development is central to our business model, as part of LDC's global commitment to fair and sustainable business, and our efforts to promote responsible food and agricultural production practices, with a focus on social and environmental sustainability.
To achieve this, we work to promote and incentivize practices that can contribute to increased agricultural yields and improved community livelihoods sustainably, and we are also actively engaged in community projects focused on education, health and environmental protection in Indonesia.
So how does LDC support local communities in Lampung?
In line with LDC's purpose, our approach is based on the idea of creating shared value. We believe we can achieve long-term mutual success by aligning business objectives with the welfare of local communities connected with our activities, which we work for through programs that seek to drive sustainable economic growth, social welfare and environmental protection.
We do this either directly ourselves, engaging with local community leaders, or in collaboration with government agencies, NGOs and various expert organizations. This multilateral approach translates into various forms of action for community development, depending on needs and priorities.
In Lampung, where coffee is an important source of income, we support smallholder farmers since 2015 by providing access to training, and other resources such as basic farming equipment and seedlings as part of our agroforestry program. We also invest in education and training programs aiming to build skills and knowledge among other local community members.
And all of this is in addition to our continual health and safety initiatives, such as disease prevention programs and workplace safety training, as part of our commitment to make safety, health and environment (or SHE) matters a priority in everything we do, all year round. That is the basis of our SHE365 culture: we put SHE first 365 days a year! A culture that has underpinned record workplace safety achievements over the past years.
Can you give us examples of specific projects or initiatives, and what impacts they had?
All our sustainability efforts have a long-term horizon, in line with LDC's purpose to create fair and sustainable value for current and future generations. That's why our educational initiatives in Indonesia focused on younger members of local communities.
For example, we identified a local high school in West Lampung, where students are mostly children of farmers we work with. Before the project, these students were not interested in taking over the family coffee business. We introduced a training curriculum at the school to empower these students – the next generation of coffee growers – by imparting industry knowledge and responsible agricultural techniques to help them build sustainable livelihoods in coffee production. Nearly all off the 72 students who participated in the program responded positively to taking over the family coffee farming business after graduation.
Following this, we are currently collaborating with a university in Medan to develop an agricultural vocational curriculum incorporating the concept of sustainable agriculture and to train about 800 students as farmers with the skills and knowledge to address challenges in their rural communities.
In another example, we started the Sekolah Masa Depan (School of the Future) initiative in collaboration with the Louis Dreyfus Foundation, to support several public elementary schools in Lampung, Balikpapan and Jakarta. The initiative focuses on three key areas: building renovations to creating more conducive learning environments; capacity building for both teachers and parents; and talks for the students. The latter focused on topics related to our business, namely food production, agriculture, sustainability issues and values. More than 1,000 students, some 60 teachers and over 300 parents have been empowered through this program.
What do you see as the principal achievements from our community initiatives in the country?
I really see a significant positive impact on local communities in Lampung, North Sumatra and Aceh. These are primarily coffee growers whom we have helped to increase productivity and incomes through good agricultural practices (GAPs). Since 2015, we have trained more than 10,000 coffee growers in GAPs and agroforestry and helped about 9,000 to access sustainability certification.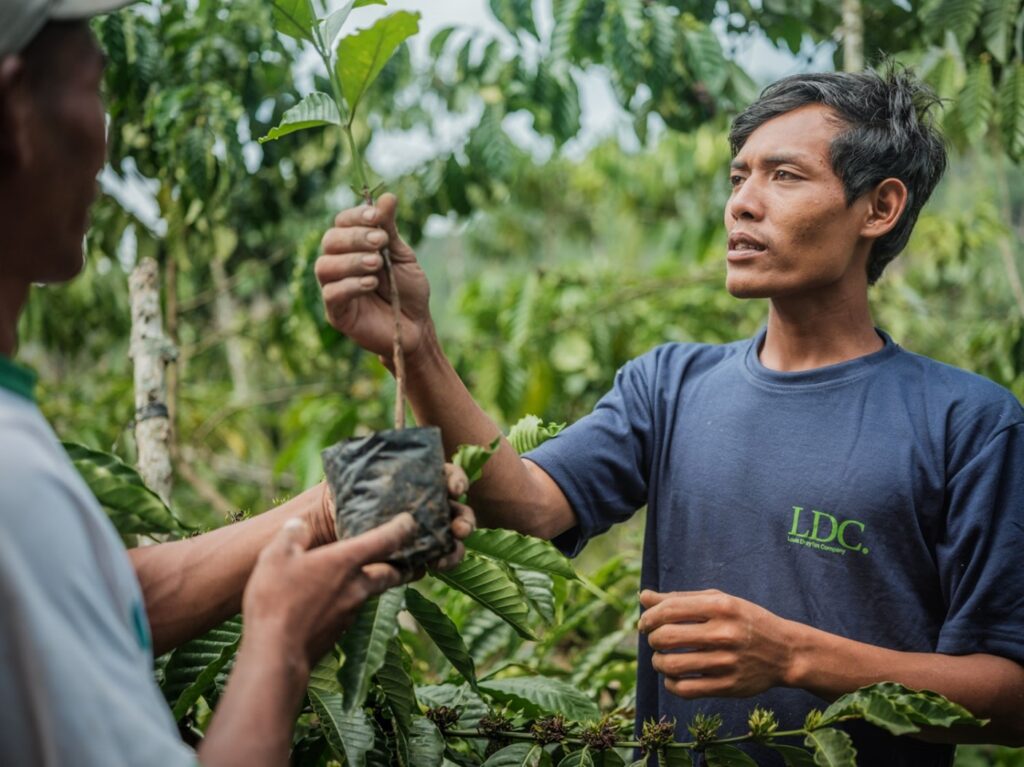 In parallel, education and training programs supported by LDC have helped to build skills and knowledge among local communities, leading to increased economic opportunities and contributing to the resilience of agricultural supply chains for the future.
And importantly, LDC's health and safety initiatives have helped mitigate the spread of diseases and improve workplace practices, ensuring everyone working for and with us returns home safely each day!
Looking ahead, what upcoming projects or initiatives does LDC have planned, to continue supporting local communities and promoting sustainable practices?
We are taking efforts on two fronts.
The first is through investing in education. Indonesia's population of almost 270 million people is the world's fourth largest, and is also very young. With a median age of 28 years, and 25% of the population below the age of 15, education is a top priority to achieve progress for the country. By investing in them, LDC hopes to contribute to a more sustainable future for Indonesia and its agricultural sector
The second is helping to create a skilled and resilient community. We are working to empower our communities, helping them develop the skills that lead to higher value and sustainable agriculture production.
At the same time, we recognize that coffee production in Lampung is a major source of livelihood for communities there and LDC's efforts are aimed at increasing coffee farmers' resilience to climate change. This is done through the regeneration of ecosystems, the adoption of good agricultural practices and the empowerment of coffee communities. All of this helps to mitigate unpredictable fluctuations in commodity prices and enhance food security at the household level.