Recognition for efforts to ensure safe and reliable supply chains in China.
This year, LDC is proud to be recognized among the "Outstanding Enterprises for Ensuring Supply During the COVID-19 Pandemic" and the "Top 100 China Grain and Oil Enterprises".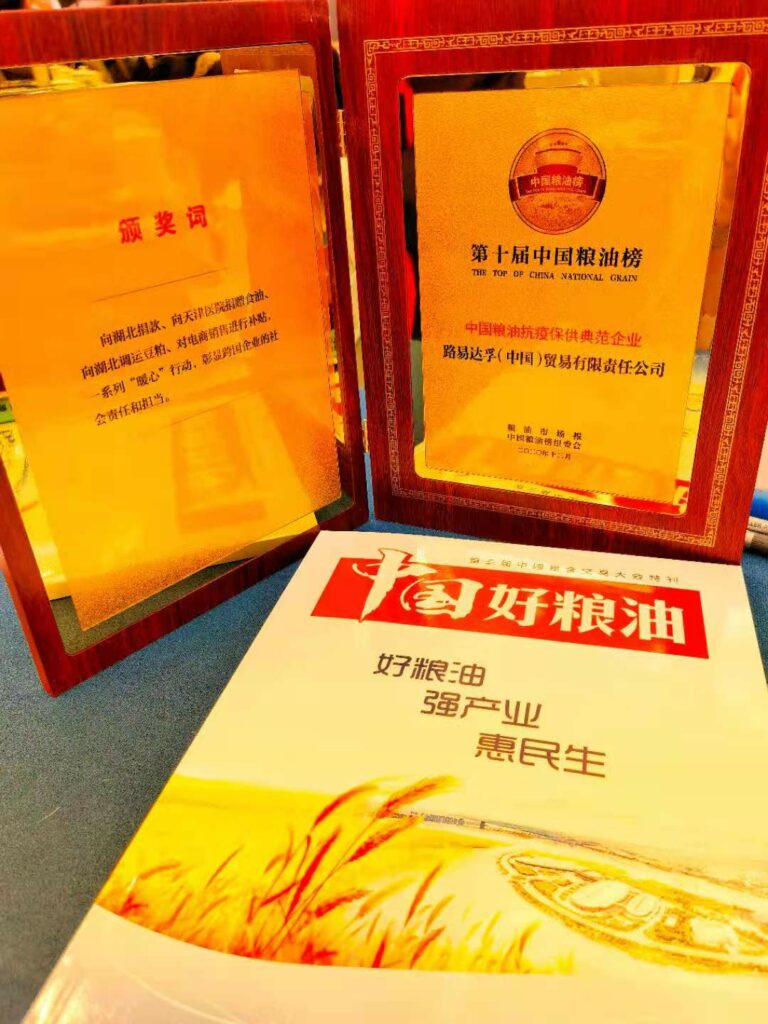 As a company rooted in China for almost 50 years, and a leading agricultural merchant and processor, LDC is committed to fulfilling its social responsibility. Since the Covid-19 outbreak, we have worked with local governments and multiple partners to ensure stable food supply chains in the country, donated RMB 1 million to the Chinese Red Cross Foundation for pandemic control measures, and transported close to 30,000 tons of soybean meal to Hubei Province to meet the production needs of local breeding enterprises, despite logistic challenges. We also teamed up with e-commerce partners Meituan and Meicai, to subsidize 160,000 cases of edible oil products, supporting catering companies in their efforts to surmount the impacts of the pandemic.
This year, our cooking oil brand Mastergold also ranked among the "Top 10 Benchmark Brands" at the awards, receiving nation-wide recognition for its popularity and quality assurance.
Since its launch at the 2019 China International Import Expo (CIIE), we have continually explored innovative ways to expand our Mastergold distribution channels. As part of this effort, we recently launched new non-GMO soybean oil, and sunflower seed, corn and peanut oils, through distributer e-stores on five leading e-commerce platforms: JD, Alibaba, Pinduoduo, Taobao, and WeChat Shop. Our latest products, including high-end flaxseed, olive and rice oils, made a debut at the 2020 CIIE.
"We are honored to be rewarded by the Top of China National Grain Awards, and look forward to exploring further partnerships to fulfill our social responsibility, contribute to food security in China, and supply end-consumers with safe, high-quality products," said Jerrity Chen, Head of North Asia Region, and Regional Head of Grains & Oilseeds.