As LDC continues to help nourish the world while working toward a sustainable future, the safety and wellbeing of our people, and our collective commitment to act for the environment, are a top priority.
Safety, health and the environment (SHE) are a key focus for teams across our business, 365 days a year, but on one special day each year, our annual SHE Day, we come together to reflect on the importance of our collective commitment to SHE.
On March 17, 2022, more than 8,000 employees, contractors and partners, as well as many local safety and emergency service representatives who work with us, participated in LDC's SHE Day to celebrate the importance of working safely, adopting a healthy lifestyle and safeguarding the environment.
Through trainings, presentations, games, contests and many other activities, the day calls on everyone – employees, contractors and visitors alike – to embrace high SHE standards, encourage others to do the same, and support each other and the communities connected with our operations – because all of our actions, big and small, can make an impact.
Standing Up for Safety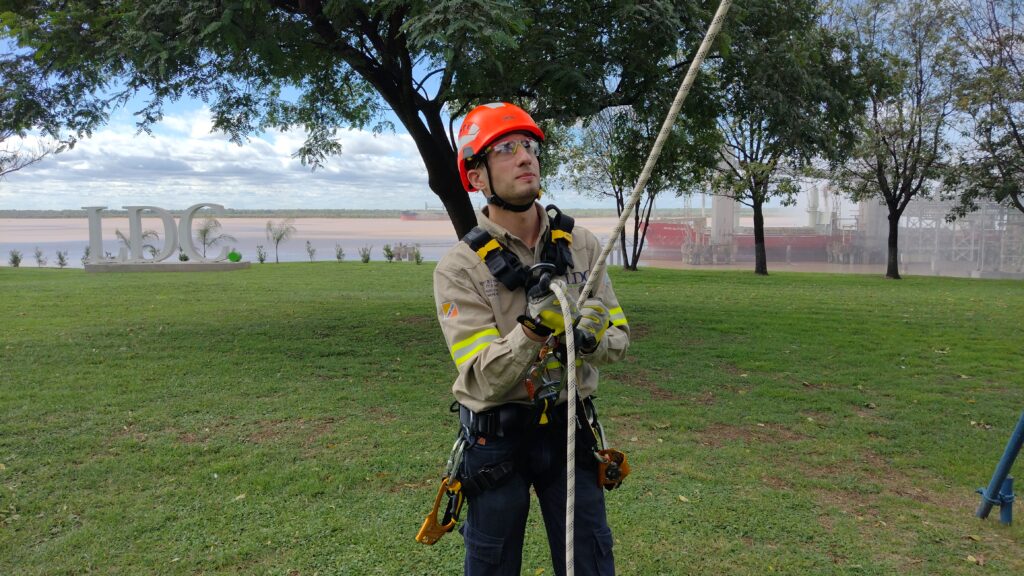 As part of our commitment to SHE, LDC strives to create a zero-accident workplace wherever we operate. We evaluate all operational processes for safety risks, take action to mitigate hazards and enforce safe work practices across our locations – an approach that guided our teams to achieve our lowest-ever level of lost time incidents in 2021.
This result is possible thanks to our SHE Team's ceaseless efforts to promote a 'safety first' culture around the world. As Justin Moree, Process Safety Manager in Claypool, Indiana, US, puts it: "The personal health and safety of LDC's employees, contractors and visitors outweighs all other business priorities. If we must stop a process or project to eliminate a hazard, we will always do it."
At LDC, we believe that each person's individual commitment plays a key role in our collective safety – including by speaking up when a potential issue is identified and challenging unsafe behaviors. By standing up for ourselves and each other – at home and at work – we can ensure everyone goes home safely to their family each day.
As Jessica Lee, our R&D Laboratory Manager in Livermore, California, US, succinctly says: 'If you see something, say something!'
In It Together
We invest continually in the health, wellbeing and professional development of our employees, who are our most important asset in our work to deliver essential goods to customers and consumers worldwide – safely, reliably and responsibly.
Now more than ever, in the context of the pandemic, we encourage and support our teams to stay physically and mentally fit, through a wide variety of initiatives – from the creation of in-house emergency teams in Argentina, to after-work sports activities in Uganda and access to family fitness memberships in Brazil.
Less Is More

SHE Day also spotlights projects that contribute to LDC's commitment to reducing our environmental footprint. From building compost bins at our General Lagos and Timbúes plants in Argentina, to installing solar panels in Perote, Mexico, each initiative stems from the ideas of our teams to continue reducing LDC's impact on the environment.
Supporting Local Communities
We also believe that SHE shouldn't start or end at the gates of our facilities or the doors to our offices. That's why employees are constantly leading or involved in projects to support the welfare of communities we work in and with, around the world.
For example, our employees in Uganda recently volunteered to improve the washrooms, kitchen and water fountains at a local school, our Claypool, Indiana, US, team helped supply their local fire department with new materials, and in China, Team LDC donated cooking oil to healthcare and social workers supporting Covid-19 relief efforts.
Reflecting on the importance of SHE Day, Andry Chandra, Deputy Asset SHE Manager in Indonesia, concluded: "LDC's SHE culture is to take care of each other, and SHE Day is a reminder that wherever we are, whatever our role and whoever we interact with – our actions matter."