Helping train future leaders in food security and sustainability
The Louis Dreyfus-Weidenfeld-Hoffman Scholarships and Leadership Program was created to give students with the potential to become future leaders in their countries the opportunity to pursue fully-funded studies at Oxford University.
Set up in 2012 as a partnership between the Louis Dreyfus Foundation and the Weidenfeld-Hoffmann Trust, the program has since funded scholars from a variety of backgrounds and countries pursuing business, law, research, education, health and political studies, with those who receive full scholarships undertaking a four- to nine-month internship after completing their studies.
In 2020/21, as part of our commitment to supporting young talents, LDC joined forces with the Foundation to offer internships to Tania Risco Ruiz and Dennis Njunge, two outstanding postgraduate students supported through the scholarship program.
Tania is from Peru and holds a Bachelor's degree in Sociology from the Pontifical Catholic University of Peru, specializing in rural economic development, gender equality and socio-environmental impacts of extractive industries. In 2020, she graduated from Oxford University with a Master's degree in Environmental Change and Management.
Her assignment should have taken Tania to Argentina to support our projects with the Foundation in the region, but due to Covid-19 her internship transformed into a three-month remote program that she ran from Oxford. Her research focused on identifying the characteristics of family farming models and the framework of agricultural policies in Argentina, while finding new potential partners for the Foundation.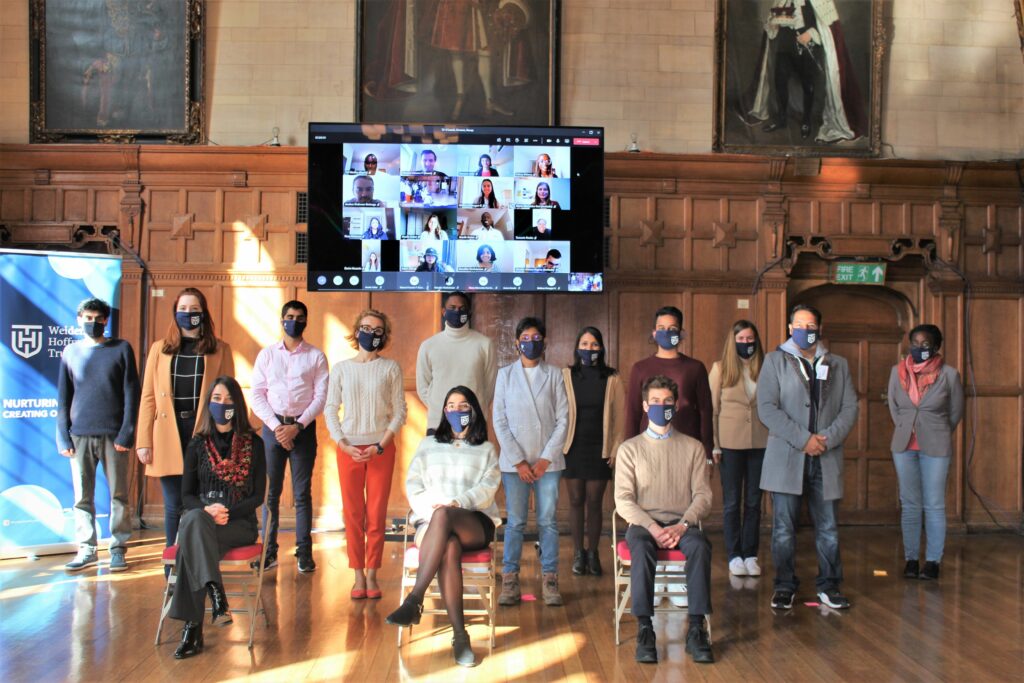 Tania also helped LDC's regional Safety, Health & Environment team to standardize data and processes related to sustainable water management across the company's facilities in South & West Latin America, and was impressed by their dedication to working safely and sustainably.
"I sensed the team's strong commitment to enhancing LDC's sustainability practices – in the region and across the world," she says.
After graduating, Tania intends to return to Peru, more committed than ever to improving the food security of vulnerable populations and doing her part for the United Nations' Sustainable Development Goal of zero hunger.
A Kenyan national, Dennis Njunge completed his Bachelor's degree in Environmental Management at Kenyatta University, before undertaking his Master's degree in Water Science Policy and Management at Oxford University.
During his internship, Dennis worked with experts, who provided guidance on agricultural policies, strategies and programs in Kenya, to develop recommendations to guide the Foundation's priorities in the country. This involved identifying the key organizations working in the agricultural sector and mapping potential partners who align with the Foundation's vision.
He also worked with LDC's Coffee Platform in Nairobi on sustainable coffee sourcing and pricing, and enjoyed the opportunity this provided to visit local coffee cooperatives.
"I gained invaluable experience and knowledge in project cycle management and presentation, not to mention the network I was able to develop!" he says.
Dennis remains dedicated to solving water-related challenges in a country with perennial water problems. He intends to return to Kenya to advise national authorities on water provision and environmental policies, with a specific focus on local communities that are often overlooked.
Since 2012, the Louis Dreyfus-Weidenfeld-Hoffmann Scholarship Program has funded over 80 scholars from 40 different developing and emerging economies across the globe, with the aim of empowering future leaders in food security and sustainability. They are already making a significant positive difference in their regions and countries of origin, thanks to their involvement in a variety of projects working across a wide range of fields, from business to education, and from health to the environment.
"We are so grateful to Margarita Louis-Dreyfus for supporting this new programme from its early days. Thanks to this the students have a life-changing opportunity to study at one of the world's top universities, combined now with the opportunity to participate in an internship with one of the Foundation's projects and get unique insight into LDF's important work," adds Alexandra Henderson, CEO of the Weidenfeld-Hoffmann Trust.
Tania and Dennis are the most recent in this long line of young talents supported by the scholarship program. With their passion, commitment and skills, and now equipped with their professional experience within LDC, they too seem set to help drive sustainable development in their respective countries.