Smallholder farmers are at the heart of the world's food and agriculture system, and essential contributors in LDC's value chain, growing the goods we buy and deliver to the world.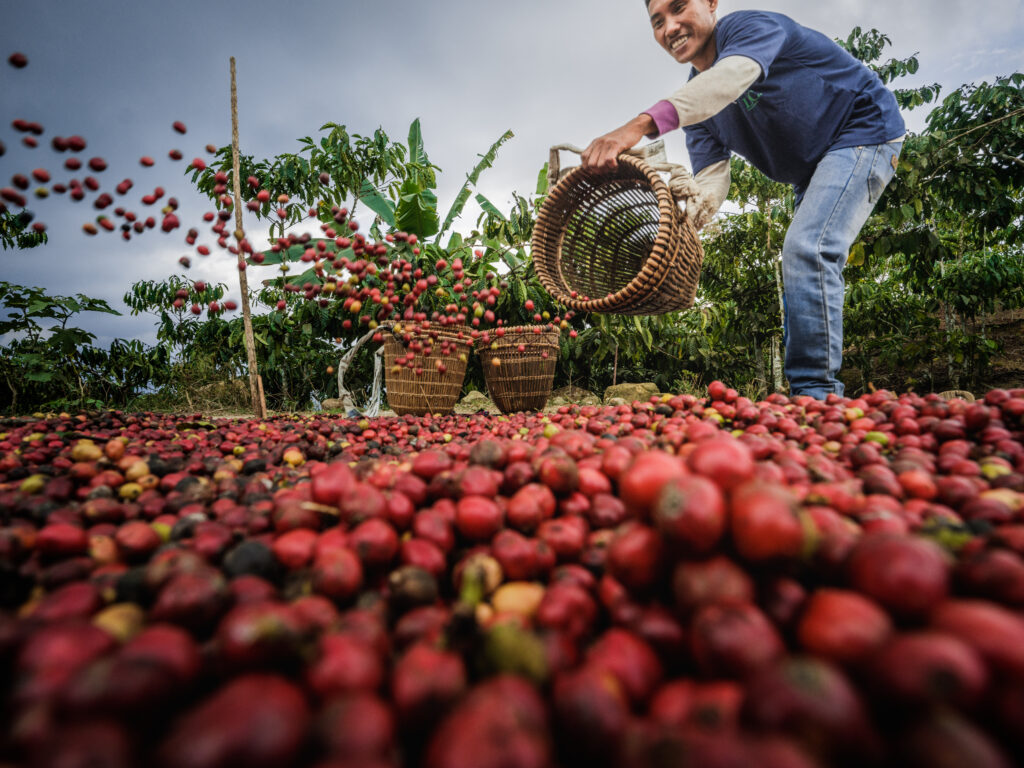 Our 30 coffee agronomists visit more than 16,000 vulnerable farmers in 17 countries each year to promote best farming practices, helping them to improve their livelihoods sustainably, while protecting the environment and keeping the sector viable for future generations.
Often local residents themselves, these agronomists have an intimate knowledge of soil, weather, culture and traditional farming practices, and share it with farmers through workshops on sustainable agricultural practices, social and environmental management, crop resilience, renovation, harvesting, processing, storage, diversification, as well as bookkeeping and market development.
The unsung heroes of the value chain, they work quietly behind the scenes, getting to know the growers, their families, their challenges – and their coffee.
The factory is the soil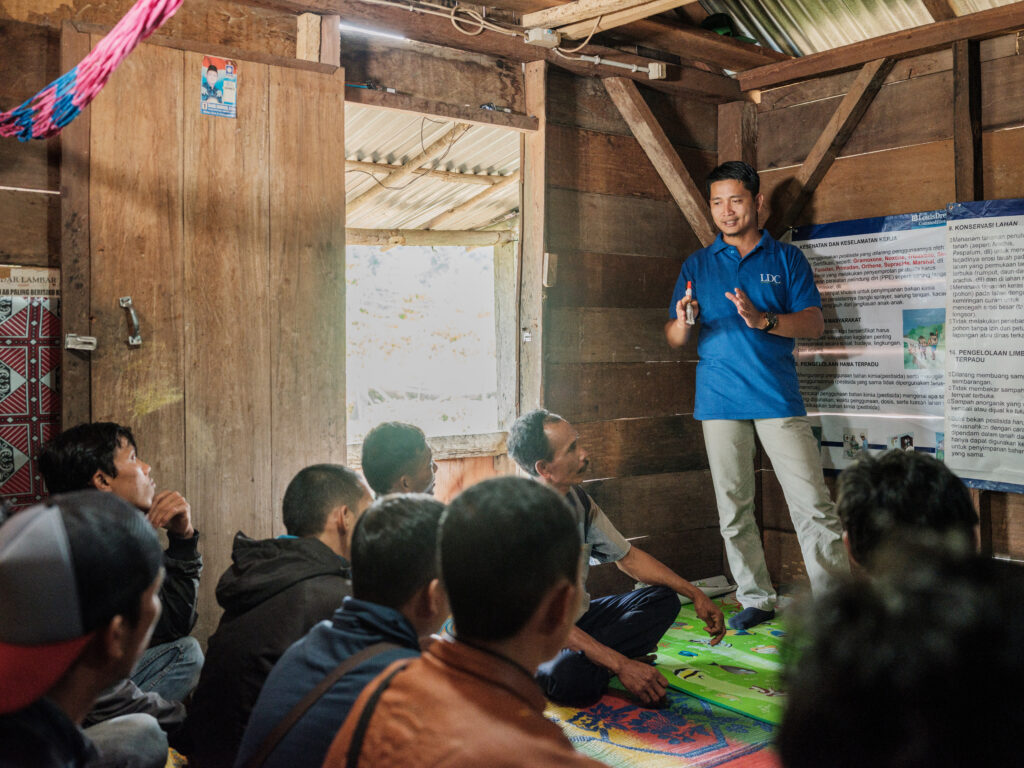 Heriyanto, 32-year-old, from Lampung, Indonesia, is one of 10,000 coffee farmers across Southeast Asia, who have benefitted from LDC's training programs. "Coffee agronomists from LDC came to our village and offered us the chance to join their training program on sustainable coffee farming. What I remember most from the LDC training is the indoor workshops, where we learned farming theories. After that, we went straight to the farm to practice those theories," says Heriyanto.
"The agronomist taught us that coffee farmers are like factory owners. The factory is the soil. The workers are everything that lives around it. The earthworms, the good bacteria and other plants. If we want to produce good coffee, the factory and its workers must be renewed. Regeneration is a must."
The life of an LDC agronomist is hard, but rewarding. Tin Nguyen, our agronomist in Dak Lak, Vietnam, visits up to 500 farmers on each crop tour, discussing coffee production, stock volumes, markets and crop quality with them. From these exchanges, he compiles reports on the latest trends in the coffee sector, including the growth of certified and verified coffee markets, and of course the ever-present challenge of climate change.
"Life on a farm is backbreaking labor, and my parents worked hard from morning to night to support the family with our harvest," says Tin. "Understanding their challenges first-hand made me want to spend my career helping farmers to improve their production and reduce costs, while also protecting the environment."
It's not just coffee growers in Southeast Asia who are benefitting. In Colombia, LDC has four agronomists who 'train the trainers', equipping farmers themselves to explain their new techniques to others. The program creates sustainability champions who spread the word, passing on what they have learned to other farmers in their communities. Respect for the rights of workers has also become a fundamental pillar of the training program, promoting good labor practices in terms of hiring and fair pay, and eliminating forced and child labor in the coffee supply chain.
From Asia to Latin America, our agronomists help farmers to succeed by teaching them to make sustainable choices which not only boost their profitability, but also help to address long-term global concerns, such as gender inequality, climate change, poverty and food security.
Focus on gender
Better incomes and improved yields give women farmers greater say over their lives and futures. 40-year-old Hetdi from North Sumatra, Indonesia, says that since she and other women from her village received training from LDC agronomists, productivity has gone up.
"The women of my village have become much more productive, and we can add to our families' income." she says. "My eldest daughter has become a coffee farmer as well, and now I am able to teach her the right farming methods."
Thanh, 32, farms coffee in Vietnam's province of Dak Lak. "The training program changed my life. I learned techniques about branching, irrigating, fertilizing and how to protect the soil," she says. "With the additional earnings, I built a new house and sent my kids to school. But the most important thing the LDC training has taught me is the importance of renewal, not only of the coffee plants, but of the farmers ourselves."
Keeping coffee production attractive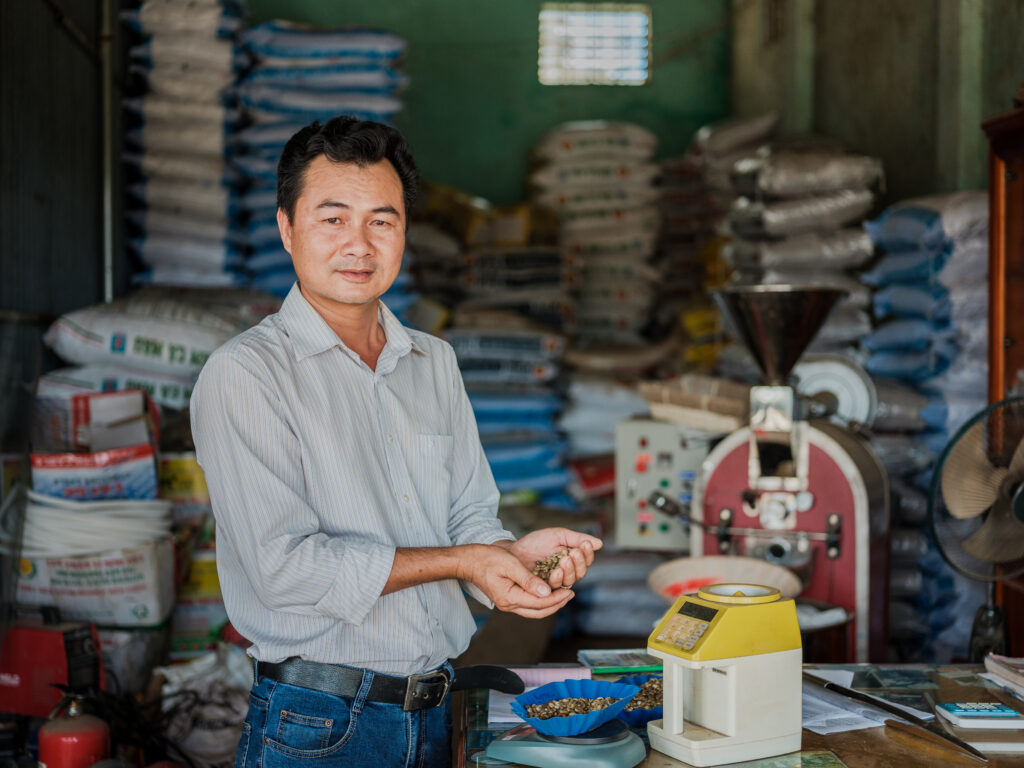 Thuong, 48-year-old, a coffee grower from Lam Dong, Vietnam, faced farming difficulties in the past, which led him to switch to growing tea for a number of years. LDC's sustainable coffee training program was a turning point in his life.
"The head of our village introduced me to the program, which aims to help us improve our coffee production and income sustainably," he says. "It is directly thanks to the training program that I decided to return to coffee farming, and to focus on growing sustainable coffee in particular."
Because we believe that we can have a greater impact by working through partnerships toward Sustainable Development Goals, we leverage our position to learn from, train and create change with other value chain stakeholders.
One such partner in our coffee sustainability projects is also our customer – leading coffee manufacturer and distributor, Jacobs Douwe Egberts (JDE). JDE's Asia Pacific Sustainability Manager, Do Ngoc Sy, says agronomists are invaluable. "We need partnerships – private and public – to address the core issues. This is why we work with LDC. LDC has the relationships and access to farmers. Their agronomists have the skills, knowledge and tools to assist farmers on a range of appropriate techniques such as irrigation, pesticides, fertilizers and safe working conditions."
Our work in coffee is one example of our efforts to ensure that our value chains are fair and sustainable, as the only way to build a business that is part of the solution to some of the world's most pressing challenges, not least to feed a growing population for the long-term.
FACT BOX

• 30 LDC coffee agronomists work in 12 countries
• +16,000 farmers visited by LDC agronomists every year
• 500 farmers visited on a typical "crop tour"
• +20,000 coffee farmers engaged in sustainability initiatives every year on average
• +10 years of data collected by LDC agronomists around the world
• 10,000 farmers trained in climate change adaptation to date, in Southeast Asia alone
• More than 300,000 trees planted in coffee growing areas of Aceh, North Sumatra and Lampung, Indonesia, since 2015