Supporting the production of responsibly grown coffee is central to LDC's coffee sustainability mission and strategy.
As a leading coffee merchant with operations in the major producing countries and a central role in the supply chain, we believe we have a pivotal role to play to ensure that work conditions, agricultural practices and business ethics meet essential sustainability standards and to spread sustainable practices across our supplier network.
To fulfil our Responsible Sourcing objectives, we focus our efforts on Non-Deforestation, our Responsible Sourcing Program and Certified Coffees.
Non-Deforestation
A key pillar of LDC's responsible sourcing approach is to eliminate deforestation and conversion of native vegetation of high conservation value for coffee-growing purposes from all its supply chains. LDC is committed to achieving this ambitious goal by the end of 2025.
LDC Responsible Sourcing Program
As part of our efforts to build more sustainable supply chains and disseminate responsible production and business practices among a larger number of suppliers, we have launched our Responsible Sourcing Program based on the principles and provisions enshrined in our Global Code of Conduct for Coffee Suppliers.
Introduced in 2015 and revised in 2020 and 2022, our Global Code of Conduct for Coffee Suppliers aims to spread sustainable practices throughout the coffee value chain by committing both suppliers and LDC to a long-term and continuous improvement process.
The Code of Conduct reaffirms LDC's commitment to the highest international ethical standards.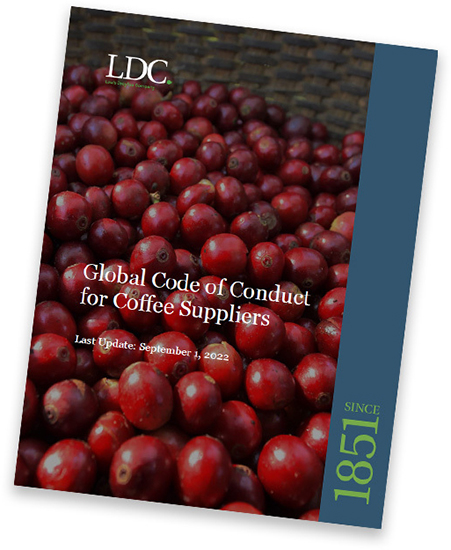 The Code of Conduct is organized into five chapters that cover key environmental, social and governance (ESG) and responsible business conduct areas: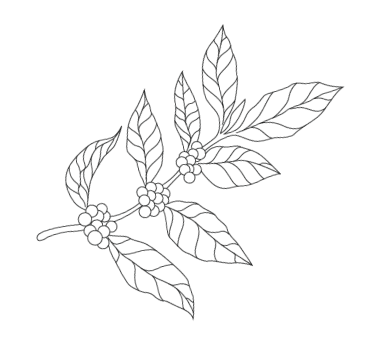 By 2027, at least
80%
of the coffee sourced by LDC will come from RSP-approved supply chains.
Program Levels



RSP Core offers LDC's supplier network a first level of partnership based on a commitment to our Supplier Code of Conduct and a continuous improvement approach to spread responsible production and business practices within our supply chains.
RSP Core and Core+ will be rolled-out across origins in 2023.
RSP Core consists of:
Commitment of our direct suppliers to LDC Global Code of Conduct for Coffee Suppliers
Training and support provided to suppliers
Due diligence on deforestation risks
Sustainability risks assessment (Social, Human Rights, Environment)
Traceability of volumes to sourcing region or mill level
Verification audits to a sample of suppliers across origins every year
---

In addition, RSP Core+ offers:
Traceability and deforestation due diligence down to farm level*
*This level is intended to meet the requirements of the upcoming EU deforestation regulation.

This Advanced scheme aims to address the most critical human rights and environmental issues in coffee value chains, and to support farmers and suppliers in adopting more responsible and sustainable production practices, so as to ultimately improve their resilience and secure their long-term access to markets.
The scheme offers high level product and supply chain transparency, traceability and sustainability guarantees, in line with our global Code of Conduct for Coffee Suppliers, aiming to guide and support supply chain participants on a path of continuous improvement.
RSP Advanced has been recognized by the Global Coffee Platform (GCP) as Coffee Sustainability Reference Code equivalent, 2nd party assurance (GCP EM 2.0).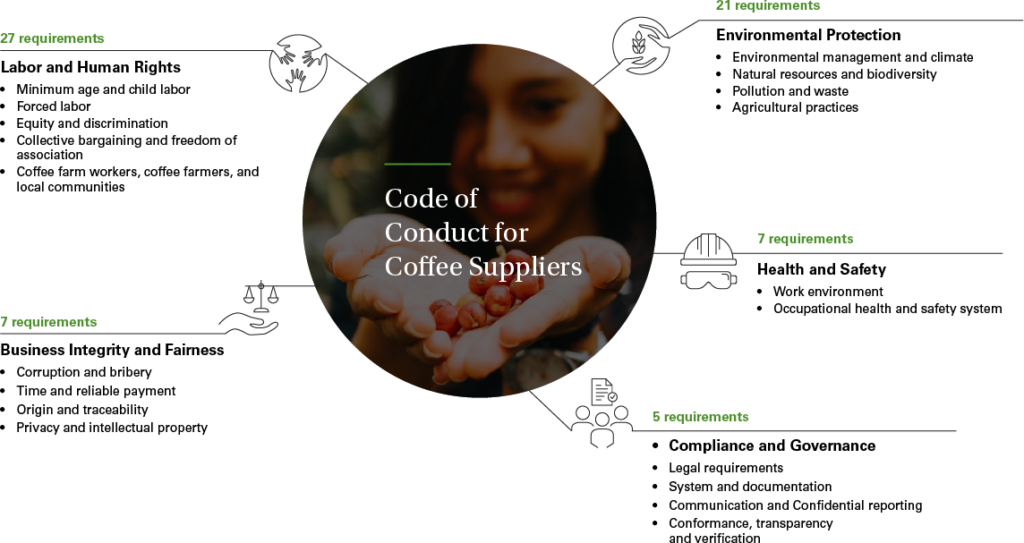 LDC RSP Advanced Guarantees
Our verification scheme guarantees:
67 controlled requirements covering the 5 chapters and 20 topics of our Supplier Code of Conduct.
Zero tolerance for the following 10 Unacceptable Practices (UAPs):

Child labor
Forced labor
Violation of the rights to freedom of association and collective bargaining
Violation of indigenous and local community rights
Lack of adequate housing for permanent workers
Lack of access to potable water for workers
Deforestation and conversion of native vegetation for agricultural purposes
Use of extremely and highly hazardous pesticides
Use of GMOs
Bribery and unlawful behaviors

Complete traceability (identity preserved) from the farmer group throughout the supply chain.
LDC RSP Advanced Assurance Process

Internal verification: Each origin country is responsible for the implementation and oversight of an Internal Management System (IMS) specific to each verified supply chain, aimed to ensure the compliance of farmers and commercial intermediaries with RSP-Advanced requirements. As part of this process, LDC conducts annual internal assessments to the farmer group and other supply chain participants at origin. Farm polygons are also collected and a land use change assessment is conducted on all the farms over the first three-year cycle.
External verification: In order to guarantee an independent and credible verification of supply chain compliance and performance, all LDC RSP-Advanced supply chains are audited by an independent authorized third-party Control Body (CB) every 3 years. Additional follow-up audits can be conducted if required or in case of a substantial increase in the farmer group and volume. Third-party audit rules, processes and criteria are defined in the RSP-Advanced External Verification Framework. During the audit, the Control Body visits a sample of farms and LDC's commercial intermediaries and operations in the country, applying specific audit checklists to each supply chain participant. At the end of the process, the external Control Body issues a verification decision that determines if the RSP-Advanced supply chain is approved or not, based on the criteria established in the External Verification Framework.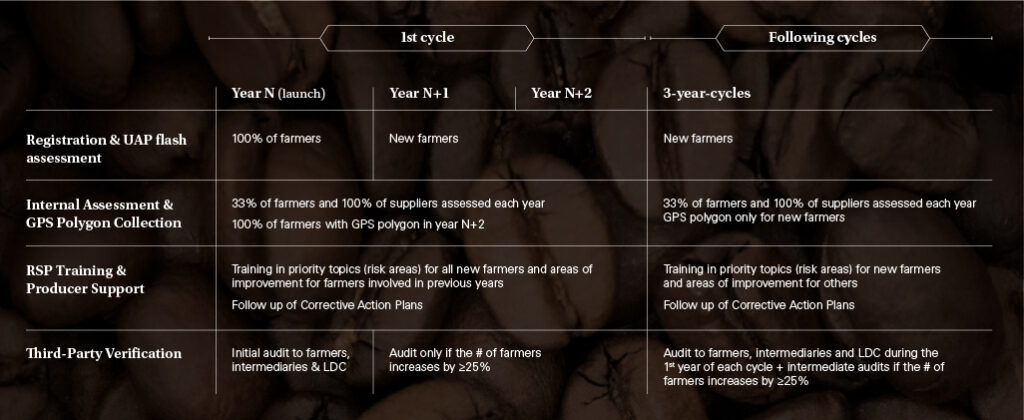 Assess & Address
Based on an "Assess & Address" approach, LDC is committed to tackle Unacceptable Practices (UAPs) and relevant non-conformities identified during internal assessments and external audits.
In cases where UAPs are identified, a mitigation plan must be immediately established and swiftly implemented, including interventions to effectively remediate the case, as well as actions to prevent further breaches and mitigate risks. Major non-conformities on UAPs can lead to the temporary suspension of an RSP-Advanced supply chain until these are resolved, and will be subject to thorough monitoring and controls in subsequent months and years.
For other significant non-conformities identified during assessments and audits, Corrective Action Plans are established between farmers, commercial intermediaries and LDC, with clear interventions to address issues and root causes over a given period, on a path of continuous improvement. LDC is responsible for following up on and monitoring their implementation.
LDC takes any violation to our Code of Conduct very seriously. We welcome and encourage all stakeholders to report any significant breach they are aware of to their LDC contacts or anonymously through the independent and secure grievance hotline provider Ethics Point.
Producer Training & Support
LDC is committed to advising and supporting farmers on their journey to sustainability, and to disseminating good production and management practices across the supply chain. We do this through training sessions and materials that cover all areas of our Supplier Code of Conduct and address the main risks identified in each location, as well as targeted field visits to farmers who need specific follow-up and advice.
RSP Advanced Supply Chains
LDC has established, or is in the process of establishing, verified RSP-Advanced supply chains in the following origins:
Brazil (arabica, robusta)
Honduras (arabica)
India (robusta)
Indonesia (robusta)
Mexico (arabica, robusta)
Uganda (robusta)
Vietnam (arabica)
If you are interested in more information, please contact us.
Scheme Management
LDC's RSP-Advanced scheme is based on LDC's global Code of Conduct for Coffee Suppliers, developed and reviewed following thorough internal consultations with LDC sustainability, origination and commercial teams, and leveraging the field expertise of employees across the different origins where we operate. LDC also received external advice from consultants in this process and, as part of the latest review, worked to align our Code of Conduct with the GCP Coffee Sustainability Reference Code.
RSP implementation and coordination is ensured by LDC's Coffee Sustainability team, while LDC's Global Responsible Sourcing Manager oversees efficient and consistent program management globally, across origins.
Changes to LDC's RSP-Advanced requirements and assurance framework will be considered based on a regular assessment of supply chain performance and needs, changes in regulatory frameworks, and regular engagement with farmers and suppliers through internal assessments, field visits and trainings.
All stakeholders are invited to contact us at any moment with input or feedback, which will be considered as part of future scheme reviews.
Recognized third-party certifications are an effective way to ensure that the coffee we source has been produced responsibly, according to more sustainability standards, and the compliance of the supply chain verified by credible assurance providers.

LDC is committed to boost the production and sales of certified coffees by establishing and supporting farmer groups to allow them to achieve compliance with the various standards and by ensuring access to markets for their certified product. We currently manage over 30 supply chains, certified under several sustainability schemes and we plan to expand our capacity over the coming years. In addition, we purchase certified coffees from other suppliers to complement our volumes.

LDC works with the following certifications: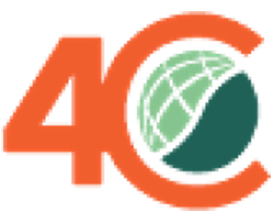 4C
4C aims at anchoring sustainability in the coffee supply chains across environmental, social, and economic dimensions. 4C brings real impact on the ground, enabling continuous improvement and enhancing smallholder livelihoods, and supports companies in achieving and keeping their sustainability commitments.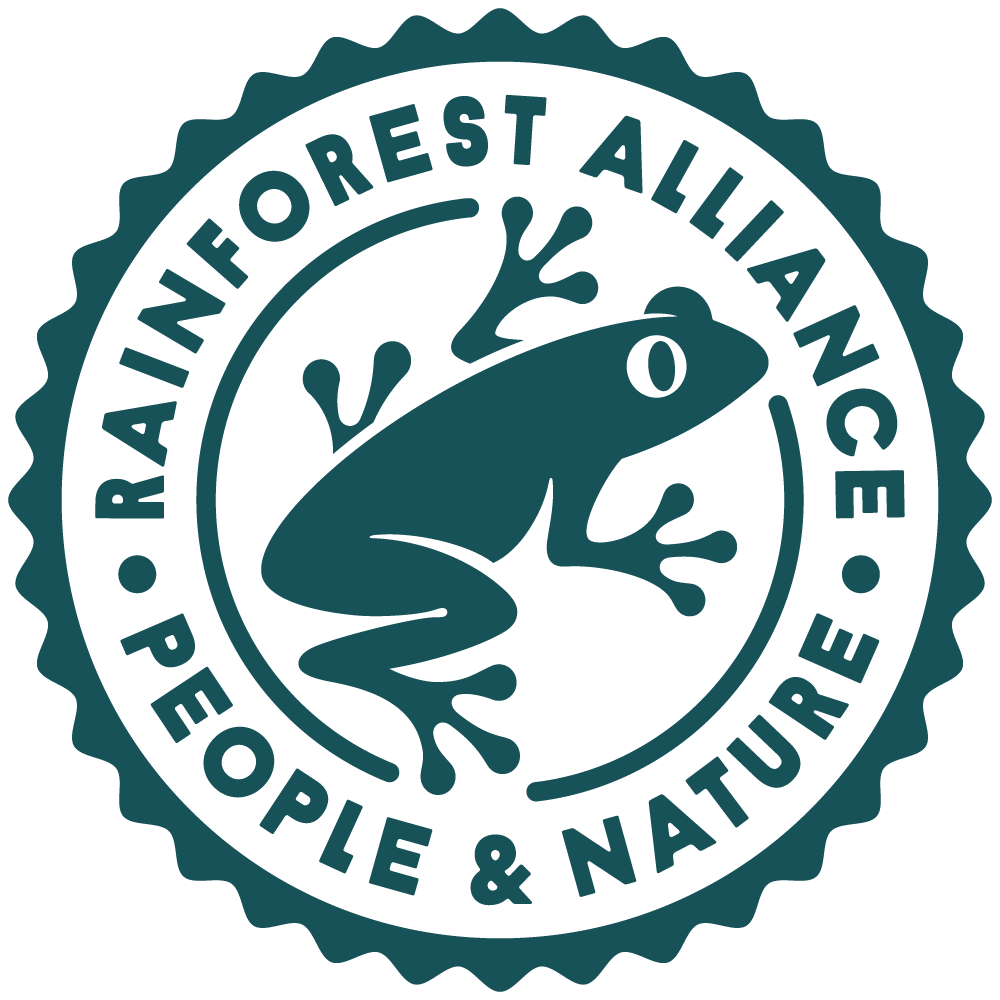 Rainforest Alliance
By bringing diverse allies together, the Rainforest Alliance protects forests, improves the livelihoods of farmers and forest communities, promotes their human rights, and helps them mitigate and adapt to the climate crisis in bold and effective ways.

C.A.F.E. Practices
C.A.F.E. Practices promotes transparent, profitable and sustainable coffee growing practices while also protecting the well-being of coffee farmers and workers, their families and their communities.
To learn more, visit Starbucks C.A.F.E. Practices | SCS Global Services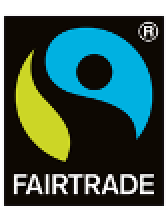 Fairtrade
Fairtrade changes the way trade works through better prices, decent working conditions and a fairer deal for farmers and workers in developing countries. The Fairtrade Standards aim at improvements that benefit producers and their communities, and underscore the commitments companies and businesses must make to contribute to sustainability in their supply chains and operations.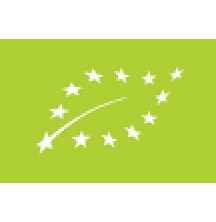 Organic
Producing organically means respecting the rules on organic farming. These rules are designed based on general and specific principles to promote environmental protection, maintain the biodiversity and build consumer trust in organic products.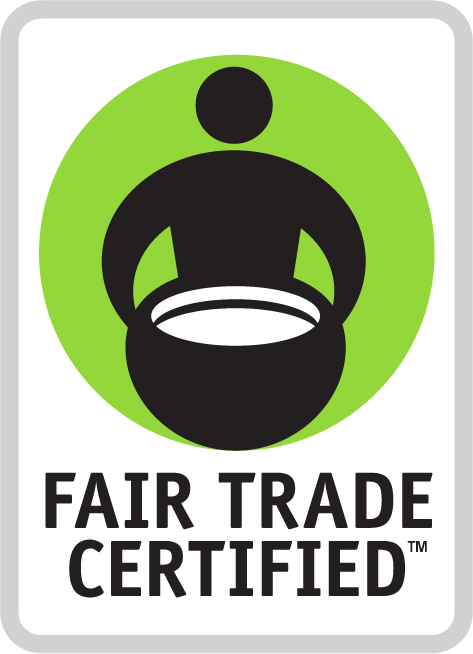 Fair Trade USATM
The rigorous Fair Trade Certified USA standards ensure safe and healthy working conditions and protect labor rights and fair wages. More sustainable income and better working conditions help increase worker retention and support more resilient communities. Fair Trade Certification compliance measures help businesses actively minimize risk throughout their supply chain.